Seven stylish men, lots of stylish inspiration: we ask some fashionable males what they want for spring.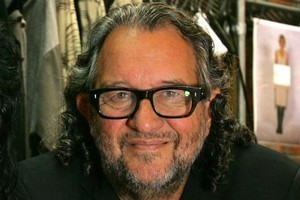 NEVILLE FINDLAY, Zambesi co-founder
* A new set of Pirelli PZero slick race tyres for my BMW M Coupe race car
These babies stick like the proverbial and are worth two seconds a lap at Hampton Downs Raceway.
* The new Samsung 9000 series LED TV
So slim and definitely the coolest box on the market, with legendary Samsung technology and definition that is giving Hollywood makeup artists a totally new challenge.
* A VW Scirocco GT24
The GT 24 is not available in New Zealand yet unfortunately, but the race derived Scirocco R certainly is, and this would have to be the sexiest performance road car around with incredible VW fuel economy and clean emission standards to boot. Black magic please!
* The Rugby World Cup
Richie and the boys will prevail, and then please everyone get off Ted's back.
GUY COOMBES, Fashion photographer
* Nike sneakers
Standing all day in a concrete studio in bad shoes is not much fun. A pair that's comfortable and stylish would be nice, so I don't look like a total slob in front of clients. I have my eye on the Nike Blazers at The Department Store.
* Bassike jeans
In an effort to not to constantly drape myself in black, I'm on the hunt for the perfect pair of sky blue jeans. A denim with a bit of stretch is always good, and nothing too skinny. There's a pair of Bassike jeans I like, which are the perfect blue.
* Canon 5D Mark II
I really need to get my hands on one of these; anyone who knows their cameras will know why. Canon's latest offering has an HD video feature which offers still photographers like myself a transition into moving image ... which has me thinking I could make videos. We'll see ...
* Workshop anorak
There is an awesome anorak at Workshop that I really like - army green and a really light cotton, so it will be perfect to wear as the weather starts to warm up.
NATHEN FOULAGI, Design assistant at Sera Lilly
* 1972 Citroen DS
I don't know too much about cars but this might be the one of the most suave. I'd love to have one in either jet black or emerald green. I think it would be a dream to drive it on a long weekend out of town - or I'd feel perfectly content chilling in one listening to some Jill Scott while stuck in Auckland traffic.
* Worth Dying For by Lee Child
A friend of mine recommended Child's novels a few years back and since then I've bought them all - and can't wait for this newest offering, released soon.
* Kathryn Wilson
"Ahwa" boot This desert boot in indigo is the most beautiful shoe I've seen in a long time and will be in store soon. A work of art (but that's just my opinion) and I look forward to her show at New Zealand Fashion Week.
STEFAN SINCLAIR, Tattooist, Two Hands Tattoo
* A "Hills Alive" blazer and trousers from World Man
A classic World suit in marine blue cotton. It's lightweight and perfect for summer boating, in a nostalgic, James Bond kind of way.
* Tiffany & Co. 1837 Compass
This is an accurate compass encased in a sterling silver box, from classic fine jewellers Tiffany & Co.
* Sailor Jerry Tattoo Flash Volume 3
The latest in a series of books chronicling the work of one of history's most influential tattooers, Norman "Sailor Jerry" Collins.
* Glastron GT150
A classic 1970s fibreglass speedboat which featured in the James Bond movie, Live and Let Die. Many of these boats were imported into New Zealand and occasionally come up on Trade Me.
* South American Unity necklace by Zora Boyd
A hand-crafted "hand", made from 9ct gold and mammoth bone.
* Ralph Lauren "BARX" deck shoe
In dark navy blue with red and white detailing. I am hoping to get a boat this summer.
VALENTIN OZICH, I Love Ugly designer, Broken Puppet Boutique owner
* "The not so happy bird" porcelain sculpture by Parra
This Dutch artist's work is getting more and more incredible. He has started expanding into homeware, adapting his quirky illustrative style into a different media. The porcelain sculptures are a must-have addition to any contemporary art collector's collection, or anyone that wants to add some smartness to their apartment.
* Black-washed boot by Mentor
Pretty much the coolest casual boot I have seen for sometime. A Danish label based on straight lines, good craftsmanship, quality and pure style. And what's best is you can dress them up or down.
* Hipster satchel by The Office of Minor Details
I came across this brand a few months ago, and have been taken aback by the quality of their product. 100 per cent leather/ hand-made/ hand-stitched and New Zealand-made. The hipster satchel is perfect for your iPad, laptop, books or whatever, and the quality of the bag makes every penny you spend on it worth it.
* AIAIAI X Slam X Hype headphones
If you want to make your music sound better, these are a must. Danish label AIAIAI collaborated with iconic menswear blog Slam X Hype to create these slick looking, old school walkman-styled headphones. For a new headphone label, which was voted one of Rolling Stone magazine's favourite headphones, you can't go wrong. Perfect with Flying Lotus' new album Cosmogramma.
STEVE MORGAN, Co-owner of Morgan and Morgan hair salon
* Beau Coop off-white Visio shoes
I'm mad about shoes by New Zealand-born Australian-based shoe designer Carrie Cooper.
* Instax Mini 55i/Fuji Cheki 55i
My sister Kylie got me into using polaroid cameras way back. They died off when they stopped making the film. The new version is different but looks very cool.
* New tattoo
With the fabulous Liesje at Tattoo'd Heart on K Rd. A koi carp in bright orange and red. It's addictive.
* Behind the Pit Wall: The Bob McMurry Story by Eric Thompson
Motor racing is not my thing but I saw Paul Henry interview him on Breakfast. It's the behind-the-scenes shizzle on F1 racing.
ALEX SWNEY, Heart of the City chief executive
* Vespa
How could I go past my Vespa - all 250cc of mildness. Who needs a mid-life crisis Harley to get you 200m between the 10 sets of traffic lights from home and work? The trip takes seven minutes as opposed to the 20 minutes-plus on four wheels and can be parked at the front door. It costs $6 in petrol each week and you are always at the front of the lights. I'm trying to think of the downside.
* Benny Brush
Every home has to have one. He is a life-size plastic terrier-shaped gadget complete with mechanical wagging tail. But there's nothing ornamental about Benny - he is a shoe polisher. As you walk out the house in the morning, there he is waiting expectantly to be turned on and your shoes get that super buff-up in 20 seconds.
* Rimowa cases
I have fallen in love with these uber-cool aluminium Rimowa cases. How many times at the airport carousel do you curse having a black suitcase like 99 per cent of others? It's understated and tough - in fact it looks better with a few dings in it. It doesn't have any European monograms etched all over it saying "look at me and how expensive (and fragile) I am". It just works - silver aluminium standing out like a beacon on the carousel.
* World adaptor
An all-in-one adaptor that connects not just all international electric plugs but also phone and iPod and computer connections - and it's not clunky - as small as two match boxes.
* Zinio digital magazine iPad app
International magazines in high resolution, all in one place.