Fashion stylist Dan Ahwa's tips on the latest menswear trends.
1. Change your buttons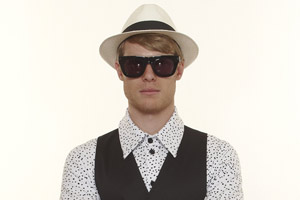 One way to change your look without breaking the bank is by changing your buttons. I was recently forced to do this myself, and it's actually pretty simple. If you're not very dexterous, then any local tailor will do. This gives you an excuse to try different coloured buttons or perhaps contrasting buttons, such as black buttons on a white shirt for a look that's contemporary and individual.
2. Have a sense of humour ... with socks
Trouser lengths are cropped, with most not going past the ankle for summer, so it's a good opportunity to invest in a pair of socks that make a discreet statement. Coloured socks look good with rolled-up-to-the-ankle denim or cropped dress pants from novice label I Love Ugly or Stolen Girlfriends Club, along with a pair of lace-up brogues. There are many sock colours and patterns online at topman.com, from coloured Aztec prints to pastel houndstooth for the guy that appreciates formal dress codes but has a sense of humour too.
3. Be inspired by your dad
Sitcom dads such as Bill Cosby and Larry David from Curb Your Enthusiasm have a lot to answer for, bringing their sensible style to next summer's wardrobe agenda. Think thin-framed prescription-type glasses from the likes of Ksubi and Prada Sport at OPSM (chain optional); beige chinos from Australian label Vanishing Elephant; and sensible footwear such as boat shoes and suede lace-up boots from local favourite Kathryn Wilson. Dad's Velcro Teva sandals get a mention simply because they're so bad they're good, with Lanvin's Lucas Ossendrijver sending out an army of Velcro sandal-clad models for spring 2010.
4. Invest in a good watch
Wristwatches are probably the most underrated item in a guy's wardrobe and, depending on what you like (or your budget), your watch speaks volumes about the kind of person you are. Classic analogue faces with leather straps are, well, timeless. However, if you like to match your sense-of-humour socks with a sense-of-humour watch, why not invest in a cheap and cheerful Swatch watch, in particular the new line of block colour watches from the Colour Code collection, out now.
5. Swap with your girlfriend
She's always been helping herself to your jeans or your shirts, why not turn the tables and rifle through what she's got? Trusting it fits you, that is. Karen Walker's T-shirts and sweatshirts have an androgynous appeal, in particular the Salzburg USA print grey marl sweatshirt from her summer range, while Salasai has an unisex approach to menswear with oversized shirts, baggy trouserpants and languid shorts. This idea also extends to jewellery, with some incredible rock-influenced skull chains and bone animal rings from local jeweller Nick Von K.
6. Embrace your inner preppy
The preppy look is a perennial favourite, and thanks in part to an updated version of The Official Preppy handbook titled True Prep, the look encourages traditional preppy dress codes for all those summer events you have to attend. It's a relaxed preppy - so think airy madras plaid shirts in festive colours, grosgrain belts, seersucker blazers and linen pants rolled up at the ankle worn with canvas sneakers. Look to preppy pioneer Ralph Lauren or classic nautical prep in Junya Watanabe's spring 2010 range for some inspiration; or filter through Zambesi's summer menswear collection for some subtle preppy references from above-the-knee shorts to the best double-breasted linen jackets in town. It's a fail-proof way to simultaneously look tidy and casual without looking like you tried too hard.
7. Get some blue denim
For those guys that like to thrash their black denim jeans, it's time to lighten up and go back to blue next season. It's also an opportunity to try out a blue chambray shirt with blue denim jeans. Yes, double denim. It doesn't require a lot of thinking, just make sure the denim on top is a different tone to the bottom. Prada's chambray shirts and oversized shorts/culottes made an impact on the spring 2010 runway; and light double denim combinations at Cheap Monday at this month's Stockholm Fashion Week. Closer to home, some wearable blue denim/chambray options are available from Levis, Workshop and Stolen Girlfriends Club.
8. Find your favourite pair of vintage sunglasses
Fashion's affinity towards re-visiting the past couldn't be any truer when it comes to sunglasses, and for the sunny days ahead, looking after your peepers is a pre-requisite. With retro-inspired sunglasses making a welcome return for summer, it's worth checking out vintage boutiques, charity stores or Trade Me for those elusive sunglass styles from the past. The best place to source vintage sunnies is online at vintage-sunglasses-shop.com where you can find classic Robert La Roche tortoiseshell wayfarers and original Persol shades from the 60s.
9. Don't be afraid of florals
Florals don't necessarily have to be feminine. This summer they transform into abstract digital prints or take a trip down memory lane with retro-inspired florals. Crane Brothers' ready-to-wear has made use of Liberty print florals that are both wearable and versatile, Christchurch-based label Mister delivers sleek shirt shapes with retro floral prints and overseas, and Raf Simons for Jil Sander sent out button-up crisp white shirts with oversized digital floral prints that make a subtle impact.
10. Wear a cool backpack
Leather satchels can be uncomfortable and a pain to lug around, so summer welcomes the return of the backpack. Australian-based accessories label Benah has included a brown leather and navy canvas backpack in its latest collection, Living Light, available at Simon James at The Department Store, while at DFS Galleria the Prada boutique has a coveted camo print backpack that'll carry all your gear around with ease. Just don't call it a man bag.