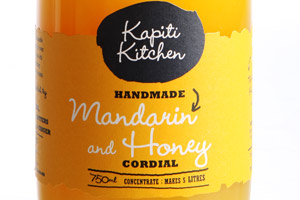 Just the colour of Kapiti Kitchen's Handmade Mandarin & Honey Cordial makes you want to try it. A tangy mix of fresh fruit and natural ingredients, it has a wonderful sense of old-fashioned homemade quality about it. Fizz it up with soda water. The 750ml bottle makes five litres. $12.99 from Farro the Fresh Food Market, 80 Lunn Ave, Mt Wellington, ph (09) 570 7071 farrofresh.co.nz
Luxury in a bottle
For those fortunate enough to swing a night at the luxury Cape Kidnappers Lodge in Hawke's Bay, or swing a round of golf on their world-famous course, you will know that the owners, the Robertson family, take their food and wine seriously. So much so, they've just released their own wine brand - Kidnapper Cliffs. Working with Hawkes Bay's Te Awa and Martinborough's Dry River, the label will release in September in five limited production varietal and blended wines. The wines will be available from select wine stores and restaurants. To find out more, go to kidnappercliffs.com
Cute as
If someone tries to sell you cupcakes on Monday, say yes please! Chances are they're raising money for the SPCA. If you want to make your own sweet treats to sell on Cup Cake Day or buy some cup cake merchandise, go to spcacupcakeday.co.nz
Jammy business
Making your own jam is all the rage; apparently Kate Moss makes her own and is thinking of launching her own range. For those who don't have the time, or the inclination to slave over a hot stove, but still want their toast topping to taste like homemade, The Damson Collection's Damson Jam is definitely worth dipping your spoon into, $7.99 from Nosh or go to thedamsoncollection.co.nz
New arrival
An elegant place for a relaxed and light business lunch is Kitchen in DeBretts hotel in the city. Regulars, like us, will have noticed that there have been a few changes to the menu. This can be put down to the arrival of new chef Mark Sycamore - the New Zealand Chef of the Year 2006, who prior to joining Kitchen was at Blanket Bay Luxury Lodge in Glenorchy (named 3rd best hotel in the world by Conde Nast magazine).
Seafood delight
The Whitianga Scallop Festival - just saying the name gets the tastebuds tingling with anticipation. Now in its sixth year, the event - which takes place this Saturday - is a fabulous mix of music, cooking demonstrations, tastings, food, wine, beer and all with the laidback charm of the Coromandel. Worth the drive. Tickets are $50 from iticket.co.nz
The word...
Our sources tell us that the good people behind the Ponsonby institution Prego are planning to open in the near future another restaurant near the Viaduct. Japanese favourite Industry Zen has also recently opened in the area and apparently their lunch boxes for $18.90 are the bomb. Nearby at the Britomart, the owners of Racket Bar and Agents & Merchants are also on the verge of opening a new chic establishment. It's wonderful to see this boost of positive energy in the downtown area.
Viva VIP competition
Imagine a festival where you have all the best of Auckland's restaurants in one spot and you can swing between them all sampling their menus along with the best of wine. Well, that's exactly what Taste of Auckland is all about. A concept that has been a hit in cities such as Milan and London, this year's festival will be held among the trees at the lovely Victoria Park from November 18-21. Tickets go on sale on Monday, but Viva has five doubles passes valued at $60 each to give away to five lucky readers. To go in the draw, write your name address and phone number on the back of an envelope and send it to Taste Festival Competition, Viva, NZ Herald, PO Box 3290, Auckland. Entries close September 1. Winner announced September 8. To find out more about the festival go to tasteofauckland.co.nz