Justin Newcombe demonstrates an attractive way to hide away your garden waste.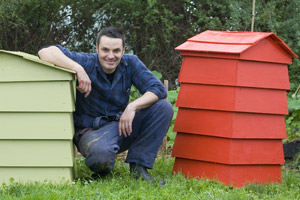 When you're processing lots of organic waste in your backyard it's easy for things to become unsightly.
Too often those pallets nailed together or that black plastic Dalek dominate your garden to the point where you would prefer not to look at it, so you hide it.
The beehive compost bin is an opportunity to add some spunk to the otherwise unattractive business of compost making.
I made two bins this time around, using untreated timber because I don't like using treated timber in conjunction with food production. This means I'll have to repair my bins more often.
Even though one of my bins looks like a dog kennel, and the other one makes me want to post a letter, they both look great in the garden.
Step 1
This project is all about the set up. First, cut your timbers into the appropriate lengths.
If you want a bin 500mm wide then cut them into 500mm lengths. Set up a couple of boards end on end on your work bench and trace around them to check you're happy with the profile.
Step 2
You need to know at which angle to cut your timbers to create the flared weatherboard look. Use the thickness of the board. In my case the board was 18mm and I added another 4mm which gave me a measurement of 22mm. Make a mark 22mm from the top corner of the board. Draw a line from this mark to the bottom corner of the board and cut. If you have a drop saw with a mitre then you are in business as you will only have to set the angle once to do all your cutting. Once you have cut your board, mark it clearly as a template and use it to trace on to your remaining boards, then cut.
Step 3
Make corner blocks to screw the boards into. I used 50x50mm pine, cut on the same angle as my board. (again much easier with a mitre saw). Each block is 20mm shorter than the depth of my board which will allow each section to overlap the one below it. To form your bin sections screw the boards into the corner blocks. The corner blocks should be flush with the top of the boards.
Step 4
To make the roof section, measure 50mm from the bottom of the front and back boards then mark out at the top centre. Draw a diagonal line from the top centre mark to each side and cut. Cut two side pieces at 50mm wide and screw into the front and back panel. Cut a 30mm corner block for each corner and screw (you may need to pre-drill these holes).
Step 5
Place the roof section on to the bin. This section can bend around a bit so make any adjustments you need to, then screw on your shingles. I made these out of a sheet of 3 ply. Screw hinges on to the back of the roof section so you can flip it open and fill it without taking the lid off. Add a length of rope at the front to stop the bin opening too far.
Step 6
Give your bin three coats of brightly coloured paint.