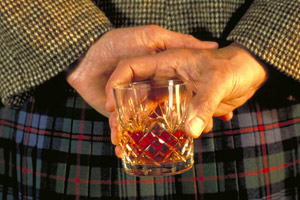 I love whisky. I'm not just saying that, I really mean it. Few spirits have the romance, the history, the sheer brilliance of whisky and I'm an absolute sucker for it.
From the rich sweetness of bourbon to the smoky, iodine flavours of the Scottish Islands, whisky covers every flavour you can imagine. Today I'm looking at the aristocracy of the whisky world, the Scottish single malts, which are - in simple terms - the product of a single distillery, unblended with spirits from other distilleries. They stand as an expression of how each distillery defines whisky.
Whisky itself is a simple spirit, made from malted barley, yeast and water. There are about 120-odd malts available and each one tells its own story.
No longer the preserve of crusty old blokes, whisky is the sexy spirit. Its consumers are young, hip and discriminating, and increasingly they are women.
The problem is that there are too many myths and bad habits flying around about this drink. I once heard a man in a bar confidently declare he wouldn't bother with a single malt as he was a fan of double malts. But there is no such thing as a double malt, unless you're talking about the size of the measure.
Expensive whisky is not improved by the addition of fizzy mixers. A drop or two of water is usually sufficient to dissipate the overt alcohol fumes and release the more subtle flavours underneath.
Thankfully, whisky is featuring more prominently on bar shelves these days, with better-quality whiskies becoming the norm. And if your local doesn't stock a decent whisky, just ask them to - you'd be surprised how willing publicans are to stock something that actually sells.
Aberlour 10-year-old malt
700ml RRP $65.99
From the Speyside region in the heart of the Highlands, Aberlour is a must-try for anyone who likes Christmas cake. Reeking of rich stewed fruit, spice and sherry, it is so luscious that it's impossible not to love.
Springbank 15-year-old malt
700ml RRP $151.50
A fishing village in a bottle. Brimming with the aromas of salt and brine, it has a warmth and generosity on the palate that brings a tear to the eye. Take a sip, close your eyes and be transported to the west coast of Scotland.