Stan Wolfgramm is the founder of Pacific theatre, film and event company Drum Productions, and is the producer of the annual Style Pasifika Fashion Awards. He tells Estelle Sarney about his family connections to Ponsonby, and why he loves the area.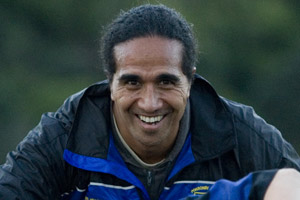 My dad grew up in Ponsonby in the 50s, played rugby for Ponsonby with people like Bryan Williams, and was the caretaker at Ponsonby Intermediate when I was growing up. I remember skateboarding around the streets that were full of immigrants from Dalmatia and the Pacific Islands - Ponsonby was lined with fish shops and fruit shops selling taro and coconuts.
Me and my partner Juls came back here 12 years ago, bought our house off Dave Dobbyn and have been here ever since. We now have two little boys, Tane, 10 and Soloman, 11. Tane is in the Ponsonby under-11 rugby team that I coach. We train at Cox's Bay Park. The team is a slice of this suburb's diverse culture - we have Pakeha boys from wealthy families and Pacific Island boys, including five from Otara who play with us on a scholarship programme run by Ferguson Intermediate out there which is supported by the police. A policeman who lives locally and works out south picks them all up and drops them home after the practice and game each week.
I was born in New Zealand but my heritage is Tongan, Cook Islander and German.
Juls and I were drawn to Ponsonby and love living here because of its strong Pacific Island community, and its cultural diversity - among our neighbours are a Tongan family who occasionally roast a pig over an umu [a Pacific Island version of a hangi], and an advertising executive who might be sitting in his spa pool while the umu party's going on. On Sundays you'll see Pacific Island families going to church in their whites, passing yuppies going to the gym in their spandex. Drive down Ponsonby Rd and you'll see guys on skateboards and in Bentleys.
Our kids go to Richmond Rd Primary School where they have language immersion classes in Maori, Samoan or French.
It's also a place where a lot of creative people live - artists, musicians, people in the film and TV business. Working in that field myself I feel at home here.
Now we have two young boys we're less into the cafe scene and spend a lot of time at the parks. There's a great playground at the bottom of Western Park, and Grey Lynn Park is good too. Sometimes we'll walk down past Cox's Creek to Cox's Bay Park. The Ponsonby that our children are growing up in is very different to the one I knew at their age, but it still has a strong cultural identity - it's a place where a lot of different communities come together.
Stan's picks
Salta Espresso, 285 Ponsonby Rd, ph (09) 360 1295. For delicious coffee and great food.
D Jairam & Sons Dairy, 141 Ponsonby Rd. Juls loves the peonies from the flower stand out the front, and you can always find a last minute gift from here.
Video Ezy, 2 Surrey Cres, ph (09) 360 9720. Great setting in a building that used to house a cinema.
Western Park Playground, Beresford St West. For a long slide that kids love, and a flying fox.
* Westfield Style Pasifika New Zealand Fashion Awards 2010, Friday, September 3, Vector Arena. See stylepasifika.co.nz for more info on this unique event that combines fashion, music, dance and cultural diversity.