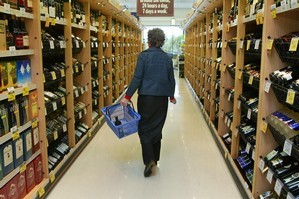 Every few months I am asked to recommend a list of great wines available in supermarkets and every few months I say the same thing: there are fewer good wines available in supermarkets now than there were last month. Shelve any notion of "greatness" there.
The problem is not just lack of variety. It's unsustainably low prices. It's all the bland boring wines at eye level and all the interesting ones at foot level or out of reach on the top shelves. And it's the disingenuous excuses of inexperienced supermarket wine buyers who, when challenged about why their best wines don't sell, come up with the incredibly unthoughtful suggestion that people just don't seem to reach for those bottles.
Which begs the question: it couldn't possibly have anything to do with the fact that most people can't see those bottles, could it?
Even in the United Kingdom, where minimum prices per bottle of wine are said to be on the way for supermarkets, there is a far greater variety of wine available across all prices and easily able to seen in supermarkets.
The first time I ever set foot in Tesco's in Covent Garden, in the early 1990s, I was gobsmacked to see a bottle of Taittinger NV Champagne at about £25 sitting alongside a bottle of Bulgarian Sauvignon Blanc at about £3. I opted for the latter. It was surprisingly good.
A few weeks later my boyfriend at the time suggested we splurge to celebrate having jobs, and back we went for the Taittinger.
Imagine if there was a minimum price per bottle in supermarkets here. We'd thank our lucky stars - or at least the largest wine companies in the country - when big-name bubbles, sauvignon blancs and pinot noirs actually get cheaper rather than pricier each year in supermarkets.
But continuous lowering of prices is not sustainable. Large wineries may be able to weather the price erosion of some big brands some of the time but small wineries can't, so that automatically narrows the range available in supermarkets.
It also limits any new wines from large companies, which need time to build a brand. It also narrows the profitability of even those with relatively good economies of scale.
This carnage has to come to an end. Nobody wants to be quoted - yet - but the sooner the New Zealand wine trade stands up to supermarket wine buyers, the better off we'll all be.
There may not be as many $6 bottles, but there will be far more variety of wine at $8, $10 and even - for those willing to push the boat out - at $15 or $20.
Next time you're in the supermarket wine aisle, look below - and above - eye level. And make it a goal to buy two bottles; at least one of which you haven't tried before. Variety is not the flavour of the average supermarket wine aisle these days but it is the spice of life. And there is extremely good, extremely well-priced wine on the internet ...
Wines of the week:
2009 Yealands Sauvignon Blanc $24.95
This is another double gold medal winning white and one with bone-dry flavours of fresh picked herbs and a flinty undertone - in other words, deliciously refreshing. www.yealands.co.nz
2008 Yealands Awatere Valley Gewurztraminer $24.95
Quantities of this luscious wine are small but the flavours are high on old-fashioned rose and Turkish delight radar with a spicy finish. www.yealands.co.nz
2008 Saint Clair Pioneer Block 16 Awatere Pinot Noir $32.95
Awatere is the new Marlborough and since this once-tiny viticultural sub-region now has more vineyards than the entire Hawke's Bay, it's worth paying attention to.
Block 16 is a single vineyard of top tasting pinot noir; lithe in style and incredibly young, so pour into large glasses hours before you drink it. From Saint Clair cellar door in Marlborough or buy it online: www.saintclair.co.nz