Herald on Sunday rating: 2½ out of 5
Address: 10 Rushgreen Avenue
Phone: (09) 298 4509
Open: Wednesday to Saturday from 6pm; Sunday 9am to 2pm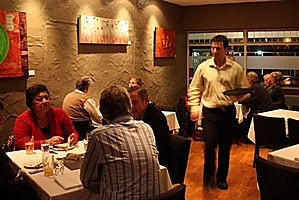 Auckland's outer suburbs are not, in general, the home of fine cuisine.
I have read encouraging dispatches from Howick and plan to head out there - I'm just waiting for a break in the traffic - but my experiences down south, out west and in the farther reaches of the North Shore have not been happy ones. (An improbable exception was Palazzo Roma in Drury, in a large shed next to a place that sold drainage pipes, where I swooned over grilled sardines and shredded lamb shank wrapped in spinach leaves. But it has, alas, long closed.)
Element was suggested to me by its proprietor, who had complained that restaurant reviewers were reluctant to venture outside Parnell, Ponsonby and Mt Eden. He has a point there, but there's an explanation (see above).
Restaurant reviewing often seems like the triumph of hope over experience but, strangely enough, reviewers are like other diners - always on the lookout for a good meal.
Element occupies one of a small block of shops on a suburban corner a couple of minutes from the motorway. The night we ate there, the boss was the waiter, enthusiastic and well-informed and a very relaxed host. Several patrons embraced him as they arrived, though whether they were relatives or regulars was hard to tell. One of the diners appeared to be also one of the cooks.
The room attempts to be as warm as the welcome, but the dull-brown walls make it a bit downbeat even with the addition of artwork, of which the kindest thing that might be said is that it's for sale.
On a wintry evening, the floor could do with a rug or two and the windows (or maybe the diners who sit near them) would appreciate a curtain. The tables are nicely dressed with white linen, though I'm not sure whether the crumpled style was calculated or careless; in the case of my shirts it's both, but it's a bad look in a tablecloth.
Element's website promises "honest food, prepared with fresh ingredients". One assumes the second claim goes without saying - I have yet to come across the menu that promises stale ingredients, but maybe it exists - but chef Matt Farley's food is certainly honest in that it's devoid of fussiness or pretension. The problem is that it's not very good.
The macaroni cheese was rich and tasty, but its cheerless presentation would have benefited from a flash of colourful garnish. I couldn't say whether the Prof's salmon was house-smoked - it was not billed as such but it lacked the suspicious red tinge of the cheaper commercial varieties and it tasted good. It was also a massive helping, and the sharp carrot and fennel salad was a nicely astringent foil to the oily fish.
The mains, though, were problematic.
A "Peking Duck salad" consisted of not-very-flavoursome shredded duck meat on a thick and stodgy blini, topped with a mere sliver of the crisp skin that is roast duck's crowning glory.
Worse still was my slab of hapuku, which came thickly swaddled in coppa, a coarse cured ham made from pork neck, and baked. A thin wrapping of the best prosciutto works well with fish, but this dish was so salty as to be almost unrecognisable as fish and in any case quite overdone.
An original dessert of rhubarb jelly, drizzled with a divine sauce made from baked orange and Cointreau, was quite splendid.
It sweetened the very long drive back.
Ambience: Basic
Vegetarians: Options on request
Watch out for: Rhubarb jelly
Bottom line: Neighbourhood dining
THE BILL
$133.50 for two
Entrees: $14-$16
Mains: $23-$33
Desserts: $10.50-$13.50