An interactive wine-tasting venture brings the experts to you, writes Jim Eagles.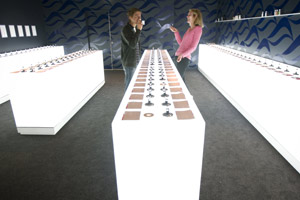 The helicopter flight up Auckland's West Coast, past Karekare, Bethells and the Waitakere Ranges, was spectacular. It was even more impressive to land beside Artisan Wines in Oratia to find owner and winemaker Rick Sunde there to greet us.
"Come in," he urged and, within seconds, we were inside the winery being led to a tasting of his 2006 Kauri Ridge Chardonnay.
Sniffing the bouquet, he detected lots of fruit including grapefruit and lemon-lime.
Sipping the wine and giving it a good chew, Sunde tasted more fruit plus a few extra flavours, such as biscuit and toast.
I thought the chardonnay rich and fruity and, surprisingly, I thought I could indeed detect a bit of toast.
A few minutes earlier, I had been giving my nose a tune-up on the 80 or so wine odours on offer at Big Picture Wine, close to Auckland's Viaduct Basin.
This is a wine-tasting venture developed by Phil and Cath Parker, who opened their first Big Picture Wine experience in Cromwell seven years ago, then launched a second in Napier, a third in Auckland and have plans for more in Canterbury, Marlborough and Queenstown.
The Auckland venue, where I did my exploration of the local wine scene, is in the middle of the Auckland Fish Market.
There I was met by Cath, who gave an introductory talk about New Zealand wine, then took me and a newly arrived English couple on a tour of the aromas found in wine, ranging from the yummy (raspberry, cinnamon, lychees, cloves) to those that occur when something goes wrong (rotten eggs, horse, onion, sulphur).
I was keen to try some of the odours described in wine write-ups, which feature smells and tastes I've certainly never detected and which sound a bit yucky (tar, chalk, leather and toast).
"Actually," Cath said, "those are mostly tastes you find in French reds from old vines rather than in New Zealand wines, which tend to come from younger vines.
"We don't have tar and chalk among our odours because that's so uncommon in our wines, but you can try leather and toast."
After the odour room, we moved into the Big Picture Wine theatre, where I sat at a desk with six tasting glasses, a glass of water and tasting notes, with the lights dimmed and the screen brightened. Then an interactive film took us on our helicopter tour of local wineries.
First up was Artisan Wines. Then, just a hop away, we stopped off at Kumeu River Estate, where Michael Brajkovich talked us through his 2006 Estate Chardonnay. Primed by the earlier training session, my nose detected lots of fruit and lucious vanilla.
A longer flight took us to Matakana and Ransom Wines, where we were welcomed by Marion Ransom and talked through the 2007 Close de Valerie Pinot Gris by husband Robin. That, he pointed out, has lots of honeysuckle and I also sensed a hint of pears.
Just down the road was Omaha Bay Vineyard, where Hegman Foster introduced his 2007 pinot gris. That, too, had a touch of pear, and Foster thought there was also a bit of toffee. A flight across the Hauraki Gulf took us on to Waiheke Island and Passage Rock Winery. There, Veronika Evans-Ganda was on hand to welcome us and husband David explained his 2007 viognier. The viognier was excellent with lots of stonefruit - apricot and peach - as well as a nice minerally finish.
The final flight was to Clevedon and Twilight Vineyards, where owner Bruce Peart was eager to share his 2004 reserve chardonnay.
When the lights came back on and I was almost surprised to find myself back in downtown Auckland, with several unfinished glasses of wine in front of me.
The experience took me back to the bad old days when one of the things to do at the weekend was drive out west, check out the sherries and chat with the Dally winemakers.
Of course, sitting in a theatre isn't the same as actually visiting a winery but, at $30 a time, Big Picture Wine is a pretty good introduction to the Auckland wine scene and probably the best chance you'll get these days of having a group of winemakers talk you through their wines.
CHECKLIST
Further information: See bigpicturewine.com or ring (09) 373 8389.