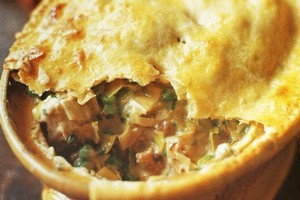 During the colder months we need food that will help stave off the chill and keep us warm till spring. Long Nights And Log Fires is a compilation of more than 180 recipes for winter entertaining - from hearty soups and comfort food classics to indulgent baked desserts and warming drinks.
Serves 4
3 Tbs butter
750g chicken thigh fillets, cut into bite sized pieces
4 leeks (white parts only), thickly sliced
3 Tbs plain flour
250ml chicken stock
125ml single cream
3 Tbs finely chopped tarragon
2 Tbs roughly chopped flat leaf parsley
Sea salt and freshly ground black pepper
Pie pastry:
185g plain flour
2 Tbs butter
2 Tbs sour cream
1 egg, lightly beaten
A large, deep pie dish (about 1.5 litre capacity)
1 Put half of the butter in a large frying pan and set over a high heat. When the butter is sizzling, add the chicken and cook for 2-3 minutes; turn often until browned all over.
Transfer to a bowl.
2 Add the remaining butter to the pan and cook the leeks over medium heat for 2 minutes. Cover with a lid, reduce the heat, and gently cook for 2-3 minutes, until very soft.
3 Return the chicken to the pan and increase the heat to high. Sprinkle the flour into the pan and cook for 2 minutes, stirring constantly so that the flour coats the chicken and leeks. Gradually add the chicken stock, stirring all the time. Bring to the boil, then stir in the cream, tarragon and parsley. Season well. Reduce the heat and gently simmer until thickened. Remove from heat and let cool. Spoon the mixture into the pie dish.
4 To make the pastry, put the flour, butter and a pinch of salt in a food processor and process for a few seconds. With the motor running, add the sour cream, half of the beaten egg and 1-2 tablespoons cold water. Mix until the dough comes together. Roll into a ball, wrap in clingfilm and refrigerate for 30 minutes.
5 Preheat oven to 180C. Put the dough between two pieces of baking paper and roll to a thickness of 5mm, making sure the dough is more than big enough to cover the dish. Fold the dough over the top of the pie and gently press down around the edges with the tines of a fork to seal. Brush the remaining beaten egg over the top. Put the pie dish on a baking tray and cook in the preheated oven for about 30 minutes, until the pastry is golden.
Recipe extracted from Long Nights and Log Fires
(Ryland Peters & Small, RRP $60)
This book is available from Cook the Books, 81 Ponsonby Rd, Ponsonby, ph (09) 360 6513, cookthebooks.co.nz