With a white backdrop throughout their house, an Auckland couple focus on colour to add interest.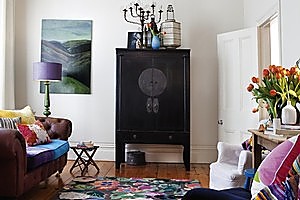 When Anya Brighouse and her husband Mark decided to revamp their Auckland villa they didn't have to look too far for inspiration. In fact, the facelift was in keeping with the look of a Matarangi bach the couple were renting at the time.
"I loved spending every weekend there," says Brighouse, a fashion writer, freelance stylist and interior designer.
"The bach was tiny, but it had my favourite bits of furniture in it - lots of simple whites with bright, happy colour thrown in. We chose to give our home a complete facelift and make it feel like the beach house all year round, with lots of white and clean colours."
The colour scheme in the villa used to range from soft grey to chocolate brown, but now the main living areas are white. The lounge, which went from chocolate to white, remains her favourite room.
"It is essentially our adults-only room. It is wonderful to escape into that room with a book. There is something about the light in that room that I love, and it has my favourite pieces of art and favourite fabrics and colours all in one room."
White might be dominant in the living areas but there are some bold colour statements in the bedrooms of their children - Madeleine, aged 13, Riley, 10, and Theodore, 7. Their entire rooms are painted in vibrant colour with matching doors. Recently, Madeleine and Theo swapped bedrooms, which also allowed Brighouse to revitalise the home.
"Madz loves to make things, and we had previously built her bed into the ceiling over the door frame, accessible by a tall ladder," she says
"Then we could fit a large, long desk to accommodate her sewing machine. The desk was continually full of her creations, and she would have stayed in her original room if it weren't for the fact that she just grew too tall for the cavity space over the door that was her bed."
As Riley wasn't much shorter, Theo was the obvious choice to take over the room. Luckily it was painted purple, which was one of his two favourite colours, and Brighouse has added accessories in his other favourite, red.
Madeleine chose to keep the blue in Theo's old room as she wanted a look that wasn't too girly. "I have tried to make sure everything in the kids' rooms, colour-wise, is tonally the same," Brighouse says.
"That way if they get a bit bored, I can swap a few things from one room to the other and it all just seems to go."
Despite having created a fresh look for their home, Brighouse admits she finds it hard to leave things alone for too long. "But sometimes that might mean a can of spray paint to change the colour of something, or simply a vase of fresh flowers is enough change to satisfy me for a while."
Style tips
Colour craft: Don't be afraid to cut loose with a paintbrush or can of spray paint. You can paint anything - walls, furniture, picture frames or even lampshades. One of Brighouse's favourite decorating weapons is a can of spray paint because of the resulting professional finish.
New purpose: Think about using furniture in different ways. A hall table can be painted and put in a child's bedroom, or an old door can be used as a table or desk.
Creative change: Update a tired sofa or chair by re-covering the seat or cushions or by painting the legs a vivid colour.
Leanne Moore is the editor of Your Home & Garden. See the latest issue, on sale now, for more achievable home ideas.