Address: 6 Birkdale Road
Phone: (09) 483 9571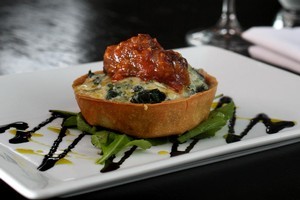 There are few things better on a raw winter's night than wading your way through several helpings of comfort food. If someone else has cooked it and is going to take care of the dishes, it's even better.
But to make it worthwhile dragging yourself away from the fire - away from the heat pump isn't quite the same - the food has to be as good or, preferably, better than you could manage at home. And it also has to be hospitably served, in pleasant surroundings.
With this test in mind we were reassured as soon as we walked though the doors of Verbena. It has a warm and comfortable bar area and a restaurant with big windows, which apparently provide a pleasing outlook when it's not pitch dark, and a spiral staircase which is more visually appealing than the standard suburban restaurant box.
The welcome from proprietor Stephen Thompson made us feel at home and the rest of the service through the evening made us feel like valued regulars rather than casuals.
The food is mainstream with some individual touches and offers the usual choice with a couple of pasta dishes alongside the meat and fish staples. The meatballs had a homely appeal but I went instead for the even more homely leek and potato soup. This was decent and thick, with a garnish of crisped prosciutto to lift it a touch above your own home-brewed version. I was beginning to feel better already.
Our other starter was a touch more elaborate, a blue cheese, onion and spinach tart. This was good, with crisp pastry and nice tomato chutney but the balsamic vinegar on the side was bit heavy-handed and tended to mask the fairly delicate flavour of the tart.
My main course of lamb shank off the bone was standard issue and might have benefited from even longer cooking but was well within my comfort food zone - and it's worth mentioning the excellent creamed potatoes. Our other main course was pork fillet with five spice, skilfully cooked and moist. This came with what was described as a kumara souffle. At the risk of offending the Kaipara, I think kumara is much over-rated but when I stole a piece of this treatment the taste was pleasant although the whole thing was a bit on the heavy side.
I knew that my dessert choice was not going to be of the light variety, having chosen the Malva pudding with vanilla anglaise with a rather redundant pear compote. A Brit would think of it as steamed pudding and custard, although this apricot jam version is a staple on South African menus and is originally Dutch. Whatever its origins, it was substantial and clung to the ribs very nicely.
Our other dessert was similarly formidable, a good, rich, soft-centred chocolate pudding with walnut maple icecream. The servings are decent-sized without being threatening and we were able to complete our carbo-loading without too much discomfort.
By the time this review appears a new winter menu will be in place and your choice of weather-beaters will be a little different. There is a decent, almost entirely New Zealand wine selection, although an Argentinean Trapiche Malbec was a novelty on the list.
A reasonable number of other diners had been tempted out into the cold, which is some recommendation and the bar was busy with live music. This unfortunately leaked over the restaurant's background music. A minor blemish on what is a solid neighbourhood offering.
Rating out of 10

Food: 7
Service: 8
Value: 7
Ambience: 8

Our meal: $169 for two entrees, two mains, two desserts and five glasses of wine.

Wine list: Enough to choose from. We had a respectable Babich pinot gris, a good Mt Difficulty "Roaring Meg" pinot noir and I matched my lamb with an Esk Valley merlot cabernet malbec. The pudding was accompanied by a fragrant Sileni late-harvest semillon.

Verdict: A cut above your average neighbourhood restaurant, both in its premises and food, which is like eating at home with frills but not over-ambitious. A reasonably priced, pleasant evening.