What do you think New Zealand's ugliest buildings are?
Send us your nominations (with photos if possible) and we will run a gallery of the most visually offensive next week.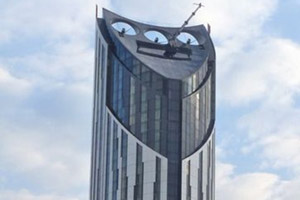 It was the cutting-edge, eco-friendly building that would soar above one of London's most maligned areas as a shining symbol of its long-awaited redevelopment.
But yesterday, the Strata tower in Elephant and Castle, a 1960s-designed confluence of Tarmac, roundabouts and Brutalist architecture, picked up Building Design magazine's Carbuncle Cup for Britain's ugliest new building.
The skyscraper's three large rooftop wind turbines, which its designers claim can supply 8 per cent of its energy requirements, have led some to call Strata the "Electric Razor". Others have dubbed the 43-storey building "The Lipstick".
One of the judges, Ellis Woodman, wrote that the building appeared to be "auditioning for a supporting role in a James Bond title sequence. (A Bond title sequence, let us reiterate, in Elephant & Castle.)"
He added that the Cup was being awarded for the building's "breakfast-extracting" ugliness.
The building of the Strata tower is the first step in a £1.5bn regeneration of Elephant and Castle, which lies just south of the river Thames and Westminster.
The barcode-like, 480ft tower, designed by architects at BFLS, is London's tallest residential block and dwarfs its neighbours.
Mr Woodman, deputy editor of Building Design, called the tower "quite simply the worst tall building ever constructed in London".
"A skyscraper is an energy-greedy building form, both in terms of construction, and the power needed to take people to their front doors in a lift. To top one off with some wind turbines is the worst sort of greenwashing."
But the building won some support among respondents on Building Design's website.
One commentator asked the judges to "see the building in its future context", pointing out that more high-rise buildings are planned for the area. The commentator accused them of having "a bee in their bonnet about Strata since it was planned".
Other contenders for the Carbuncle Cup were: the Bezier Apartment block at Old Street in East London, which Building Design said resembled a "gigantic pair of buttocks"; St Anne's Square in Belfast, accused of an "overscaled and underimagined pastiche classicism"; and the Cube in Birmingham, which was compared to a "lumpy beige ornament your father buys your mother for her birthday because he thinks it's classy, whereas she can see it for the tat it is".
The final two shortlisted buildings were the Burns Monument Centre in Kilmarnock, which - Building Design said - is "all but indistinguishable from the bike sheds of a 1980s primary school", and the Haymarket Hub in Newcastle city centre, described as "jelly mould-like".
Strata's architect, BFLS, and its developer, Brookfield Europe, declined to comment on the award.
-INDEPENDENT