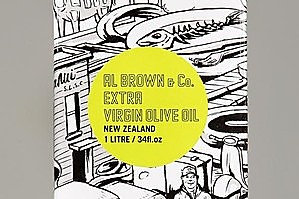 Al Brown is not the sort of man to sit around twiddling his thumbs. From his award-winning Wellington restaurant Logan Brown to his book Go Fish and TV series Hunger for the Wild, he's always on the hunt for good recipes, fresh products and new ideas. His latest is the Al Brown & Co. Extra Virgin Olive Oil made in collaboration with The Village Press.
The oil is made from a single variety of tiny Greek koroneki olives grown in Southern Hawkes Bay.
There is also a lemon & fennel infused bottle available, but we just love the packaging of this box. $29.99 from Farro Fresh, 80 Lunn Ave, Mt Wellington or go to farrofresh.co.nz.
Party time
In the shadow of Mt Eden, is the mighty Molten restaurant which this year celebrates its sixth birthday, along with adjoining bar Liquid Molten.
Respected for their award-winning cuisine, owners Mike and Belinda are celebrating with a Long Lunch on Sunday September 5. The event will start with bubbles and canapes in the garden, followed by a mini-degustation with matching wines in the restaurant, and then sweets, stickies and cheeses in the bar, along with funky tunes by the Sweetmix Kids. What a fabulous way to spend a Sunday. Tickets are $85 and limited, so don't delay. 422-424 Mt Eden Rd, Mt Eden, ph (09) 638 7236 or go to molten.co.nz.
Delicious Dahl
Model to cook - it's not the typical career path, but then there's nothing typical about Sophie Dahl. First, she is the grand-daughter of the writer Roald Dahl, she was a star of the international runway, has dated the likes of Mick Jagger, and written a number of well-received novels. Now, the young star has her own cooking show The Delicious Miss Dahl which starts on Food Television tonight at 7.30pm. Each programme in the series focuses on food and emotion - from romance to nostalgia and escapism - as Dahl visits her favourite haunts and shares her best recipes.