Matakana foodie Annabelle Guinness shares her love for delicious treats.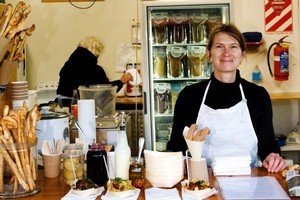 Hopeless romantics, take note: it's hard to imagine a more atmospheric setting for a first date than a frosty, misty morning at the Matakana Farmers' Market.
A jazz quartet plays Ella Fitzgerald while a mixture of locals, city-dwellers and tourists mill around the stalls with steaming cups of coffee in hand. Cheery stallholders dish up fresh waffles, Dutch cocoa and almond pastries, and shoppers fill their baskets with freshly-laid eggs, tubs of dukkah and Matakana olives. But it's towards one stall in particular that veteran food writer Lauraine Jacobs is steering a cluster of foodie friends: Annabelle Guinness' Love range of soups, stews and other slow food masterpieces. Guinness welcomes serious foodies and curious newcomers with the same warmth, relaying the story behind this recipe or letting you into the secret of precisely where she found the mushrooms in that soup: "This dish here - polenta with buffalo blue, stewed apple and fresh cream - is based on the most memorable meal I had in Italy. Five generations of the same family took my husband and I into the hills and cooked it up it in a big copper pot."
As we tuck into hearty brunch dishes like wild venison, cavolo nero and fig ragout on rice, tamarind and eggplant baked beans and smoked snapper and kumara chowder, Jacobs tells Viva what makes Guinness stand out: "Annabelle is simply one of the most creative chefs I've ever met, and it's wonderful to see her market stall evolve into a full-scale boutique producer of artisan foods. These hot dishes are absolutely delicious, and her menu is ever-changing and completely original."
Guinness has only been at the farmer's market since March last year, but she's no newcomer to the serious business of food. There's even a family heritage: her mother was a Van Camp, of Van Camp Chocolates, a Queen St institution in the 1970s and 1980s until it was bought by Cadbury. And Annabelle was still at school when she was offered an apprenticeship by pioneering restauranteur Steve Randall at Oblio's, on Ponsonby Rd. It was during her years of training here that she met her husband Phil, fellow foodie, Randall's brother and the bar manager. In the early 1990s the two of them embarked upon a food odyssey, working and holidaying in Turkey, France, Italy and Britain, soaking up culinary influences.
On her return, Guinness and her sister ran Oblio's for a number of years, before her childhood home of Matakana beckoned. Going into business with her brothers and sisters, they bought the Leigh Sawmill, now a legendary dining and music venue. Her sister Nicole took care of the decor, her brother Ed - who now runs the venue - saw to the music side of things, and Guinness and Randall designed the menu.
It was in a small cottage on-site that the couple had their three children - Saffron, Theo and Roman - which eventually led to them selling their share in the business back into the family.
Today, the family live in a villa atop a hill, overlooking vineyards and the sea, with a vegetable garden, fruit orchard and chooks. It was the abundance of natural produce in Matakana which prompted Guinness' next venture. "I just had to do something with all this wonderful fruit," she laughs. So she started making fruit sorbets, then sauces, before being persuaded - by Jacobs, among others - to take a stall at the market.
Now, in addition to selling homemade soups, sauces and her family's secret recipe fudge in local stores and Auckland's Nosh, Guinness spends her Saturdays in the market. The menu changes with the seasons: delicious fruit sorbets and salads in summer, nutritious soups and stews in winter.
"And I love it," she says. "Essentially, I run my own pop-up restaurant every Saturday for six hours, and then I get to go home and have a family life!"
And how does being a market chef differ from the busy kitchen of a Ponsonby Rd restaurant? "Funnily enough, it allows me to be a lot more creative," she explains. "It's the perfect ground for experimentation, because if something doesn't work I simply don't make it the following week. Plus I interact with customers here and now, which is both useful and satisfying."
Another way in which market cooking has proved liberating is that Guinness doesn't need to plan menus in advance. "This means I can respond immediately to whatever good produce I come across. If I forage for mushrooms or my friends at Leigh Fisheries ring me up about a good catch, I'm serving it in the market the next day."
Guinness is adamant she's perfectly happy where she is, but Jacobs begs to differ. "The exciting thing about farmers' markets is that they're a great stepping stone for small-scale, artisan producers like Guinness," she says. "What you see here is a training ground for passionate, creative food-producers, and we'll know Annabelle has really succeeded when she isn't here any more." For now at least, you know where to find her.
* The Annabelle Guinness range of Love soups, Love mayonnaises and Love fudge are now available at Nosh.