Hotel owner and art collector Chris Parkin has found the perfect way to surround himself with his passions - that's when he's not off adventuring on his motorbike.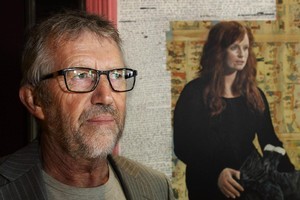 Design aficionados and art lovers will appreciate Wellingtonian Chris Parkin's Museum Hotel. A passionate collector, Parkin has filled his boutique hotel and the recently opened Long Gallery with favourite works of art and items such as his limited edition MV Augusta motorcycles - true conversation-starters.
Recently appointed to the board of Te Papa, Parkin was a Wellington City Councillor for years, an inaugural trustee of the Affordable Arts Trust and chairman of the St James Theatre Trust. He has provided sponsorship assistance to many organisations including a $100,000 donation to the Wellington Sculpture Trust.
For the past nine years Parkin has awarded the Museum Hotel Scholarship, which is given to the top second-year student at Toi Whakaari/New Zealand Drama School.
When he's not busy running his boutique art hotel, Parkin can be found off the beaten track- usually on a motorbike. A recent trip saw this adventurer heading out to the northwest frontier of Pakistan, near Taleban territory, on his way through to Tibet.
On Saturday August 21, Parkin is hosting the Hippopotamus High Tea High Fashion event at the hotel. Guests will sip bubbly and be entertained by live music and a runway show of Wellington designer Alexandra Owen's Spring/Summer 2011 collection just before she takes it to New York Fashion Week.
10 FAVOURITE THINGS
1. MV Augusta Tamburini sports motorcycle
It combines mechanical and design excellence perfectly with art. One of a limited edition of 300 motorcycles, it features in our Art Guide. And it does 300km an hour.
2. Fish 'n' chips
One piece of fish, half a dozen battered Bluff oysters and a curry roll from Wellington Trawling Company in Cuba St - oh, and a half-scoop of chips. Only the Green Parrot comes close.
3. Alexandra Owen dresses
Classically styled and beautifully structured. Regrettably, they are a very poor fit on me.
4. Musee d'Orsay, Paris
Whoever had the idea of putting one of the world's great art collections in an old railway station is a pure genius. Room after Impressionist room. Like a sacher torte with pavlova and cream on top.
5. My pimped 1974 VW Beetle
This was commissioned for my sales manager on the promise it would take only three months and $20,000 to restore. Two years and $85,000 later it was finally delivered. I won't let anyone drive it but me.
6. Hippopotamus
Fine French food and wine served by fine French waiters, prepared by a very fine French chef (Laurent Loudeac) and very conveniently located in the Museum Hotel, Wellington. Which is also fine.
7. Grandfather clock by Jasper Taylor (1699)
A family heirloom. When I was small I used to hide inside it when playing hide-and-seek. It has been in the Parkin family for 250 years and still keeps good time.
8. Travelling by motorbike
My most memorable adventure was motorcycling from Peshawar, Pakistan, up along the Afghan border to Kashgar, China's westernmost city, then across the high plateau of Tibet, behind the Himalayas, past Mt Everest, eventually to the Hyatt Oasis in Kathmandu - a journey of 6000km through arguably the best (and most dangerous) scenery in the world.
9. Drumbearer/The Mourning of Laura Buller by Raymond Ching
This is my favourite painting in my collection. My favourite piece by him is a painting called Glastonbury, but I couldn't afford it so I bought Laura instead. Remarkable portraiture.
10. Catch 22 by Joseph Heller
One of the great reads of modern literature. I try to model myself on Milo Minderbinder but consistently fail.