Herald Rating: 4/5
Address: 49 Victoria Rd, Devonport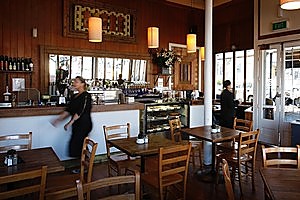 We came here because the school holidays called for a visit to Devonport.
Parking was easy on the surrounding streets.
We walked in and immediately thought the place was certainly popular - we managed to get the last table. The winter chill and looming rain deterred most diners from the outdoor tables. The dining room was attractive, one of the brick and wood buildings Devonport is known for.
The most unusual thing on the menu was all fairly standard fare except for the seasonal offerings on the specials board of winter stews.
We ordered the vege fritters with spiced avocado and tomato parmesan sauce ($15) with a side of bacon ($3), the Manuka big breakfast, comprising bacon, sausage, mushrooms, poached eggs, grilled tomato, hash browns, multigrain toast and tomato chutney ($18.50), and potato rosti with poached egg, bacon, spinach, vine tomatoes and sour cream ($15). The vege fritter was a little on the soggy side and the spiced avocado a strange concoction, but the rest went down a treat.
The service was friendly and attentive.
The coffee was just right.
We recommend if you come here enjoy a hearty brunch, then explore the boutiques and sights of Devonport.
Overall we thought perhaps a warming stew for lunch next time?