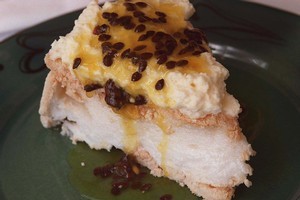 A New Zealand chef created a giant pavlova ahead of last night's Bledisloe Cup match in Christchurch.
And it was all in the name of charity.
Using 10,000 eggs, 600 kilograms of sugar and 300 litres of cream, chef Aaron Campbell whipped up a 50-metre-square pavlova, serving up 10,000 slices in Christchurch.
Mr Campbell told AAP he was inspired to make the mammoth dessert after a giant lamington was baked in Ipswich, in far north Queensland, last year.
His main motivation was raising money for kids with cancer, but the South Island local admitted he was happy to provide a bit of fuel to the trans-Tasman battle for ownership of the pav.
"There's always a bit of rivalry and to be honest that's one of the reasons why we did it," he said.
"[The ownership's] all up for grabs really ... you're never going to find the right answer."
Mr Campbell spent about 100 hours preparing 440 slabs of pavlova, which a team of cooks assembled and decorated with an All Blacks theme.
- AAP