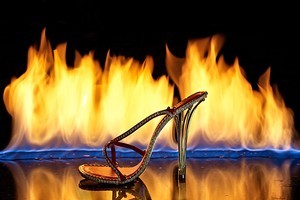 GREAT BRITAIN - Solid gold, diamond-encrusted shoes worth £100,000 ($217,000) - the world's most expensive footwear - have gone on sale in the UK.
The hand-made Eternal Diamond Stilettos are covered in thousands of diamonds and rumoured to be on the shopping lists of Victoria Beckham, Paris Hilton and British singer Cheryl Cole.
Each pair takes 100 hours to be crafted by a team of goldsmiths from solid sheets of gold, before 2200 diamonds are set by hand. Five pairs of the sparkly stilettos have been sold.
Designer Christopher Michael Shellis created the bespoke luxury shoes and produces them in Birmingham, selling them through The House of Borgezie.
"Shoes are something women find totally irresistible, and I wanted a way of showcasing my skills of goldsmithing, diamond-setting and design in a way that was really attractive," he said.
"These shoes are iconic and elegant and are the ultimate form of female expression. People literally stop and stare."
The dazzling heels also come with a 1000-year guarantee.