Herald on Sunday rating: 2½ out of 5
Address: 2 Surrey Crescent
Phone: (09) 376 0196
Open: Daily from 5pm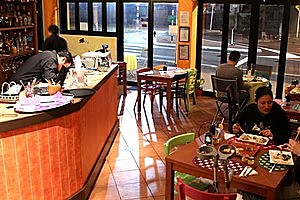 A lawyer I know accosted me as I waited for dessert at this new Mexican restaurant.
"You're here in a professional capacity, I suppose," she said and, without pausing for an answer, "and you'll be saying nice things."
Funny how lawyers' questions often sound like statements. Or threats.
As I left, I asked her, sotto voce, what she would do if I didn't say nice things and she said, "I'll hunt you down." But she was joking. I think.
The plain fact is that I was not as impressed with Ahsi-Itzcalli as I expected, hoped or wanted to be. And it saddens me to say so because the family who run it are so damn nice.
The name, which means "achievement and development" in the language of the Aztecs, reflects its growth from the Aotea Markets via the Ponsonby Food Hall. In its present site, it was a welcome arrival before it even opened its doors for business because it replaced Nando's, a place that did for chicken what George W. Bush did for American-Arab relations.
They've smartened up the place with a yellow pastel wash on the walls and a portrait of Frida Kahlo above the bar. But the decision not to curtain the floor-to-ceiling windows is a midwinter mistake. Presumably the idea is to offer a glimpse of the cheery interior to passersby, but we kept our coats on and, when offered a table right next to those windows, asked whether we could sit further within, even though it meant that three of us occupied a table laid for four.
We were scarcely seated before we were offered complimentary appetisers - a drink flavoured with rice and coconut and another with hibiscus, some excellent corn chips and salsa. But this gesture quickly became a mathematical puzzle because there were three of us and either two or one of everything else.
It was the start of an evening of rather vague service - no water was offered and we had to ask twice to get any; one of two desserts ordered never arrived and the three mains we ordered came at different times. This last was actually a relief because the enormous platters they use so crowd the table - God knows how we would have managed at a table for three - that we needed to get rid of the first to accommodate the third.
As to the food, it was good, but far from very good. I don't doubt that the menu is authentic - there are certainly dishes you won't have met at your local taco and burrito joint - but the guacamole was conspicuously devoid of zing, the chicken mole (a classic, in a chilli and cocoa bean sauce) was overcooked, the enchiladas were too swamped with rich tomato gravy to taste and the fajitas rather stingy with the beef.
What's more, it's actually quite pricey, for all the gussying up with decorative drizzles, which seems at odds with its traditionalist image. Pricing everything at something.99 (I've rounded up the prices at left) can't disguise the fact that it's not cheap. The special coffee is the same price as at Soul Bar.
In short, it seems to me a place that has lost touch with its roots and is straining for effect. It's worth recording that it has many fans, apart from that lawyer - but at this stage it's over-promising and under-delivering. At a price.
THE BILL
$168 for three
Guacamole: $10
Salsas: $6
Mole: $27
Enchiladas: $27
Fajitas: $26
Cake: $12
Wine: $60
Ambience: Chilly
Vegetarians: Options
Watch out for: Random service
Bottom line: Trying