Address: 47 The Parade
Phone: (09) 533 0408
Website: thebeachhouse.co.nz
Cuisine: European and Pacific rim
Rating: 8/10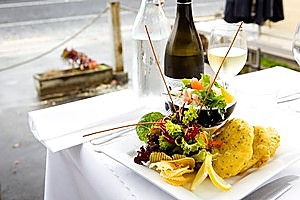 I'm often asked if dining out ever loses its appeal, given that I do it for a job.
Are you serious? I never tire of the anticipation; arriving and letting those initial impressions wash over me, opening the menu for the first time, then settling in to enjoy an evening designed to be memorable.
If you find it "less special than it used to be", start mixing it up. One way to do this is to dine with people who don't eat out often. I did this recently with a foodie couple who don't eat out much these days, at The Beach House Restaurant in Bucklands Beach.
Overlooking the Tamaki Estuary and out to the Hauraki Gulf, the location of this eatery is fabulous, and its dining room is elegant, set with starched white tablecloths, high-backed chairs and sparkling glassware.
Orders placed we settled in to enjoy the view but just as our entrees arrived, the lights went out. With absolute calm the staff placed an extra candle on each table and reassured us the heating and cooking equipment was all on gas anyway.
The power never returned and yet the team produced the entire dinner service without a glitch. Impressive.
To the food. I noticed dishes leaving the kitchen were reminiscent of the fine dining often found in large hotels, with a focus on height, colour and elaborate garnishes. I later discovered that head chef and owner Alex Kaihea had indeed earned his stripes in one of Auckland's premium hotels.
The menu is weighted in favour of seafood and we took advantage of this, ordering entrees of beer-battered Clevedon oysters and salt and pepper calamari. The batter was light, crisp and non-greasy and the oysters deliciously creamy. The calamari was tender with a golden coating of seasoned batter that enhanced the flavour.
My starter, the Tongan-inspired Ota Ika (marinated snapper in coconut milk) could have had more lime in it and been left to marinate longer so the snapper was less "chewy" but it was fresh and tasty.
The oyster-eater followed his entree with an eye fillet teamed with truffle mash, garlic tiger prawns and a beef cheek and cheddar cheese pie which was a great take on the surf 'n' turf idea. His wife devoured her chunky, pan-roasted hapuku fillets, sauced with a rich beurre blanc, and smacked her lips with delight.
I had a main of tuna loin, wrapped in calamari and served on tagliatelle with chilli, ginger, roasted peanuts and coriander aioli. It looked spectacular but the flavours were a let-down. They may have been overpowered by a dominating tomato-based sauce that tasted like a ready-made brand. So the lesson might be that while it's great to have dishes jammed full of creativity, sometimes less really is more.
Desserts were a clever lemon de Sorrento that was meticulously presented and tasted divine. The creme brulee was excellent, though the store-bought wafer twirls lowered its tone.
Eating at The Beach House is dining as it should be - enchanting, exciting, pleasant and uplifting.
From the menu: Beer battered Clevedon oysters ( doz) $20, Ota Ika $15, Salt 'n' pepper calamari $13.50, Eye fillet with tiger prawns $36, Yellow fin tuna $29.90, Fish of the day $38.50, Creme brulee $13, Lemon di Sorrento $12.50.
Drinks: Fully licensed.