A new online store offers handmade and contemporary designs by up-and-coming New Zealand artists.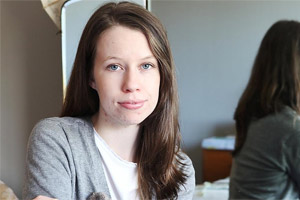 Jessica Whiting recently launched Foxes, a new online store of New Zealand-made "design and wonderment", with a focus on up-and-coming independent artists. It is a project close to Whiting's heart, as a way to help showcase and support independent artists around the country. Whiting herself is an independent, having had her own craft business, Bam Bam Creative, for the last two years, as well as running the Auckland Craft Collective with a friend and co-organising the biannual Auckland Art & Craft Fair. She selects the wide range of high-end hand or locally made pieces for the website, such as homewares, clothing, magazines, bags, artwork and jewellery. There are exclusive pieces made especially for Foxes too.
10 FAVOURITE THINGS
1. Mahogany dresser
This was built in 1946 by De Burg cabinet makers (then based in Grey Lynn) for my nana when she moved into her first home shortly after getting married. She really wanted the cabriole legs and three panel mirrors - every time I sit here I feel so glamorous.
2. Simon Clark painting
This one is titled All in the Family and the centre is made from a tin that was my nana's. Simon's work is just amazing ... he also happens to be my uncle. This piece actually belongs to my brother and I'm babysitting it while he is living in Britain, so technically it's not mine - but I love it like it is.
3. Silver clock
This was a gift for my birthday from my parents a few years ago. I adore its clean lines. It's so stylish and is hallmarked for its year, although I must change the battery!
4. Steel lamp
Made from hand-cut stainless steel plates, this was made by my boyfriend as a gift for my birthday last year ... it's so beautiful.
5. Vintage clothing
I love things that have a story. My mother made this blouse to wear when she was 19 and going on her OE just after she was first married. It's made of gorgeous chambray and feels amazing.
6. Bam Bam Creative clocks
These have been made exclusively for Foxes. They're not only super-cute but are made from a 100 per cent renewable source - bamboo.
7. Devon Smith fox pendants
Each one of these pendants has been hand-painted by Devon, a Wellington-based artist. They are so amazing to look at closely. They are exclusive to Foxes too.
8. Vintage trinkets
I'm especially into cut crystal at the moment - it looks beautiful with fresh cut flowers from the garden. I'm a real sucker for cute jugs and tea cups especially.
9. Ethel & Harriet candles
Beautiful scented candles in vintage tea cups, made from soy wax so they burn cleaner and scented with gorgeous oils. Each is handmade and unique.
10. Vintage family jewellery
I have a beautiful collection of things from my family. The charm bracelet was my mother's, she collected each charm when she was travelling around Europe. The locket was my nana's.