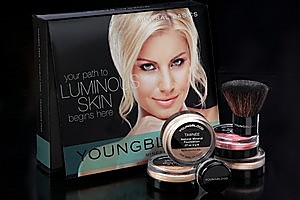 Make like you're whisking an egg to correctly apply mineral makeup. That's a tip from an expert at applying the loose powder for best effect.
Kim Larsen, business development manager for True Solutions International, which distributes beauty products to salons across Australasia, says many women need a lesson in making the most of minerals. "The more you buff the more luminous it becomes."
She recommends a three-step process of Swirl, Tap and Buff. First, dip the right brush into your powder, tap off any excess, and buff away. A whisk action, similar to beating egg whites, is the way to go.
The brush can also be lightly dipped into moisturiser before the powder is applied to better work it into the skin. A more than cursory buffing will also ensure the powder works into the skin and combines with its natural oils. "Keep buffing and buffing and buffing."
Liquid foundations aren't true minerals, says Larsen, because they contains binders and fillers. "It's a makeup with minerals." Liquid products may appeal to those with very dry skin, but for anyone else, including those with rosacea and acne, she says powders are a better bet.
But the oft quoted line about minerals being pure enough to sleep in, is not one she recites. While minerals won't clog pores as liquid foundation can, she still believes in thorough cleansing each evening. "Makeup isn't bad for you skin, it's the not taking it off." And minerals are after all, basically dirt, ground up rock, so why wouldn't you wash them away?
Larsen, who distributes Bare Minerals products, recommends getting a lesson on application from an experienced beauty therapist and then she swears they will be converts. She advises using a mineral powder foundation topped with a translucent finishing powder, such as Bare's Mineral Veil and also a contouring or blush powder. Mineral Veil, which contains corn starch, soaks up oil. "It's good for menopausal women, as it absorbs moisture, so you can sweat with this, not end up with runny makeup."
Larsen's final tip is that mature women should watch that loose powder doesn't settle in any fine lines on their faces. She recommends using a concealer brush to wipe any lingering particles away to ensure a flawless finish.
Fallout is also an issue for those who use loose pigment powder eyeshadows. M.A.C's senior New Zealand makeup artist Amber Dreadon says Scotch tape is the answer. She carries it in her kit and says it will lift off any unwanted particles without disturbing other makeup.
Starter sets: Bare Minerals and Youngblood Mineral Cosmetics make particularly good starter sets for women wanting to give high quality minerals a go. These contain foundation, blush and brushes and in some cases extras such as finishing powder and eye shadows. Seek a salon consultation first to get a feel for what's on offer. Bare Minerals Get Started Kit has a recommended retail price of $140. Youngblood's Mineral Basics kit costs $99.50.
For stockists: Bare Minerals 0800 575 565 or see spauniverse.co.nz; Youngblood, ph 0800 555 630.