For personal trainer Kirsty Gregg and her gallery owner partner Dominic Feuchs, artworks form a backdrop to everyday life.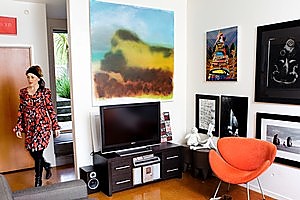 Everywhere you look there is art. Hanging on the walls, displayed on the deck, arranged in a bookcase, sitting in the middle of the dining table. It is like a private art gallery, hidden away on a quiet street just behind the hustle and bustle of Ponsonby Rd.
This is the home of personal trainer Kirsty Gregg, where she has lived with partner Dominic Feuchs for around three years. He co-owns Karangahape Rd gallery Starkwhite, which partly helps to explain the impressive art collection. But though Gregg may work with bodies, her background is also creative, in the worlds of art and fashion - she used to own fashion stores Stella Gregg (she sold it about six years ago), and studied painting at Ilam School of Fine Art at Canterbury University. This is where she and Feuchs met, and also where they first met some of the local artists whose works are now displayed in their home.
Several pieces greet you as you enter - a John Reynolds painting, a lightbox by Jim Speers - with many more pieces hung on the walls of the light and airy open-plan downstairs area. White walls are offset by polished wooden floors, a simple backdrop to the main event - the art.
A large Andrew Barber landscape sits above the television, next to which sits one of Gregg's favourite pieces, a Peter Robinson painting that comments on people selling out Maori art and themselves. "I'm a huge fan of his work and flatted with him when I was at art school years ago."
On the main facing wall are several works - a colourful Trevelyan Clay painting, a large tiki photograph by Fiona Pardington, a thrush head photograph by Gavin Hipkins, a small Peter Peryer photograph of Mt Taranaki, the "sad cat" painting by Michael Harrison, another Pardington print called Tui Died - a note the artist found that her daughter had written about when their cat died - plus two more Trevelyan Clays. What look like two toys leaning up against the wall are, in fact, just that, each with a darker twist - an inside-out polar bear with its seams exposed and ears lobbed off (which Gregg "adopted" as part of the Soft Toy Adoption Agency project at Starkwhite in 2005), and a blow-up rabbit by Hye Rim Lee (a Christmas present from Gregg for Feuchs). Other walls feature works including a framed piece from et al., an unplugged Michael Parekowhai lightbox, and an "oddly real" computer-generated photo of Piha by Jae Hoon Lee.
Even more art is displayed in the dining and kitchen area: a large Peter Stitchbury that the couple bought about five years ago, an et al. vase on the wooden dining table. A bookcase features only a few books - a stack of Pony Club Secrets books written by Gregg's sister Stacy - with the rest of the shelves dedicated to more artistic treasures, like two Saskia Leek drawings Gregg got when they were in art school together, and stacks of Dick Frizzell tuna cans. (If all this modern art proves too intimidating, there's some "Understand Modern Art Instantly" breath spray sitting in the bookshelf too.)
Seven John Reynolds' blocks are displayed on a kitchen shelf next to several ceramic pieces - a Daniel Malone sculpture, vases from Feuchs' grandmother and a piece by Gregg's father. Above a door in the small kitchen is a mounted toy animal head that looks like it could be some artistic sculpture, but was actually found in an emporium in Hamilton.
"Everyone goes, 'oooh, who made that work?"' says Gregg, who likes the humorous take on the current faux animal craze.
"Lots of the pieces have been collected over time, which is what you do. It's like anything, you slowly add to it," explains Gregg.
She says the couple probably get a new piece every three months or so, with their most recent acquisitions being an et al. chair installation in the lounge, from a performance the artist did as part of an Auckland sculpture symposium, and a candy blue-coloured Seung Yul Oh egg-shaped sculpture, situated on the deck outside. (More of Oh's egg-shaped works, dubbed "Globgobs", are on permanent public display around the Teed and Osborne St area in Newmarket).
Like a real art gallery, their home displays are changed as often as possible, using pieces new and old - many of which are stored in the upstairs spare room.
"As I was complaining to Dominic the other day, a lot of my favourite things are down at the moment; like a big Saskia painting, a couple of Ronnie van Hout photos. It is good changing them, but then you miss things and think 'oh I really wish that was back up'," says Gregg, who would like to introduce more video work to the home.
The strong artistic influence that's obvious throughout the home also extends to the new Kirsty Gregg Studio which opened last month and for which John Reynolds did the logo. Based in the new re:ab centre in Grey Lynn, the studio offers clients personalised strength and cardiovascular work alongside Pilates training. Working with friends and artists like Reynolds is great, says Gregg, who will sometimes swap training for art. "It's quite nice doing that sharing, and you can have good conversations while you're training, too: 'okay, one more rep ... and what did you think about the Biennale?'"