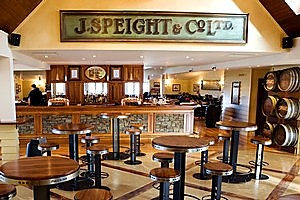 When the Gables Tavern on Jervois Rd closed down, many of us mourned its loss. It was a down-to-earth staple of Herne Bay where you could be guaranteed a decent, expertly cooked steak, drowned in a sauce of your choosing and enjoyed while you watched a game of rugby or took part in the quiz night.
When I drove past the new Speight's Ale House that had taken over the location it was crawling with tradesmen and looked far from complete. Imagine my surprise when I read in my weekend paper two days later that it was open for business.
For those used to the comforting familiarity of the Gables you'll need to brace yourselves. First, for the smell of fresh paint and second for the somewhat austere surrounds. I was expecting it to be filled with rustic, southern charm but what greeted us was somewhat bland.
Seating choices are either a bar stool/high table combo or a slightly too crowded dining room with very stock-standard chairs and tables. There's also a courtyard but on a cold night that wasn't appealing.
A collection of old photos and other wall adornments endeavour to create a brewery-type atmosphere, but it's the TV screens that dominate.
Ordering a Distinction Ale was easy. Getting a glass of pinot noir proved more difficult. They'd been drunk dry of the listed "by the glass" pinot three nights previously when the rugby crowd had enjoyed an All Blacks win. I bet it felt more like the Gables of old that night, even if the crowd were now drinking wine instead of beer.
However the new barman was keen to oblige and offered us a glass of "this one". He was brandishing a bottle of three-quarters full Martinborough Vineyard pinot. I was incredulous. "By the glass?" I squeaked. Nice. More on that later.
The dining room was freezing, with most diners not bothering to relinquish their scarves or coats. We were told the heating "hadn't arrived yet".
The menu is entertaining, with brewer's notes on which Speight's beer will match each dish. We loved the clever nod to the South Island descriptions - Catlins calamari, Shearer's shanks, Cromwell crumble - as well as the attempt to embrace the immediate location with the Ponsonby Pork Belly and Pacifically Speaking fish of the day.
We made a start with chicken and pork liver pate and the Catlins calamari. The pate arrived with thick slices of char-grillled focaccia and was perfectly adequate.
The calamari was served with a Waldof salad and this was tasty, full of walnuts and not overpowered by too much mayonnaise. It didn't qualify for the Speight's trademark statement of "generous to a fault" though. At $14.90 we'd expected more than two pieces, even if they were larger than usual, of calamari.
The service at this stage of our meal could best be described as muddled. Each new staff interaction brought on a request for our "number" (we'd been allocated one with our first drinks order) and yet this never seemed to make things any easier when delivering our meals or drinks.
I chose the Blue 'n' Gold (cod and chips) for my main and I wasn't disappointed. Crisp, golden beer batter encased the delicate cod. There was plenty of it and no scrimping on the tartare sauce. My fellow diner went for the Dunno's drunken steak which was elegantly presented and had the taste of a well-aged cut of beef. The chunky hand-cut fries were brilliant - crunchy on the outside but fluffy in the centre.
When my friend attempted to order a second glass of the Martinborough Vineyard pinot she was told that a mistake had occurred and it was usually only available by the bottle at $120! We found it a shame the southern hospitality couldn't extend to one more glass, but fully understood their predicament. We just hoped the new barman hadn't got into too much trouble over the first glass.
Desserts were disappointing; the apple and fig crumble had watery fruit and the crumble was more like a sprinkle. The "tiramsu" (sic) was terrible - processed and synthetic in taste and texture - and bore little resemblance to the real thing.
I returned a week later at lunchtime to see how the ale house was shaping up. The rating for this week reflects that the newly opened ale house doesn't so much need work, but instead needs to be finished and time and training, or both, given to bedding in the systems and getting the place humming.
From the menu: Caitlins calamari $14.90, chicken and pork pate $14.90, Blue 'n' Gold cod in a Speight's beer batter $23.90, Dunno's drunken steak $29.50, Cromwell crumble $11.90, tiramisu $11.90.
Drinks: Fully licensed.