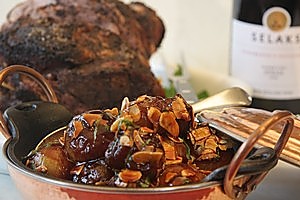 The first introduction to onions, for most kids, is thin slices inside a burger. For me, it was the evening I watched my grandfather smear half an onion across the windscreen of his car. He explained there was a big frost expected overnight and he found the onion had the same frost-protection effect, without all the fuss of laying newspaper over the window.
One of my many favourite bedtime stories was of the discovery of onions buried with the Egyptian Pharaohs. They believed the concentric circles or layers of the onion represented eternal life.
When I started cooking, I was amazed at the variety of methods other cooks swore would stop you weeping when chopping onions.
I tried lighting a candle to burn the vapours, blocked my nose, froze the onion first, wore swimming goggles and chewed gum; but in the end I found the most successful method was to cut a wedge of lemon and lodge it in your mouth like a yellow mouthguard.
When onions are cut, cells and enzymes are broken down and a volatile LF gas is released, activating sensory neurons in the eye and causing a stinging sensation. Tear glands then kick in to flush out the irritant.
Onions are grown from seed or as a "set" of pre-grown bulbs best planted in rows 30cm apart. Both grow best in a raised bed.
As a rule, when cooking, I find white onions to be less pungent than brown and slightly sweeter flavoured.
Red or Spanish onions are best if you're eating them raw in Italian panzanella or in a cucumber, blood orange and feta salad.
The brown variety is the one most people are familiar with, though, and is the best all-purpose onion - great roasted in its skin until soft and sweet or in rings soaked in iced water till crisp, or drained, dusted in flour and deep-fried in tempura batter.