Josh Emett tells Kerri Jackson there's nothing hellish about working for Gordon Ramsay.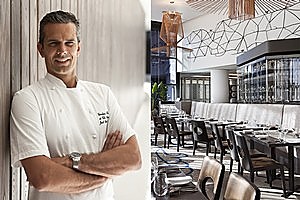 Where others have looked and seen only hell or a fast road to reality TV infamy, former Waikato boy and chef Josh Emett found a decade of hard work, rewarded by a seat near the head of Gordon Ramsay's table.
Where others have been reduced to a sticky, sobbing mess, Emett has become Ramsay's go-to guy when it comes time to open a new restaurant somewhere in the world. It's a role that's taken him to some of the world's most high-profile, highly competitive kitchens in London and New York.
Emett says Ramsay's kitchen environment, although it's made to look hellish on the telly, "just suits me".
"I'm very comfortable there. It hasn't always been an easy road by any stretch of the imagination, but I've had huge opportunities and been given good platforms to perform off."
Those platforms included working in Ramsay's eponymous restaurants in Chelsea and Claridges Hotel, London, before moving to the Savoy Grill which he helped to earn its first Michelin star.
From there, he opened Gordon Ramsay at The London in West Hollywood and New York, where he lived for several years.
At the start of this year Emett packed his knives and moved closer to home, this time opening Ramsay's first Down Under restaurants - Gordon Ramsay's Maze and Maze Grill at the Crown Metropol hotel in Melbourne.
"I still miss New York, but it felt like time to move a bit closer to home. I have a family, I needed to spend a bit more time with my parents, all of those things."
And Melbourne seemed the perfect fit, as Emett spent three years working there in the late 90s, honing his skills after 18 months before that at Auckland's famous Cin Cin on Quay.
"Melbourne is a great food city and, like all good food cities, the restaurant environment is really competitive, which is great. It's not as competitive as New York, which is in a league of its own really. but Melbourne definitely is, too."
And the scrutiny is all the greater when you're at the helm of a brand like Ramsay, making its debut in this part of the world. "It means people are really interested in what we're doing, which is good. Thank God we had a great opening, and got the critics out of the way with good reviews. It was all generally very positive."
Emett copes with the local competition by largely trying to ignore what his competitors are doing. "I do try to stay away from it. I don't want to get influenced by what somebody else is doing." Instead, his food inspirations come "usually from something I've read or tasted, or produce I find and want to try".
He describes his style of cooking as very produce-driven, and straightforward with it. "With my food, what is on the menu is what you get on your plate, and you get a good piece of it.
"I do find when I go out that often what's on the menu is one thing and what you get is quite different. Or you have to really hunt for that piece of fish you thought you ordered."
It's a style which suits his Melbourne customers, who are much more discerning than they were 15 years ago.
"They know exactly what they want. They're very keen on local produce and they want to see something interesting, but they don't want to see things messed around with too much either."
For Emett, the move back to the Southern Hemisphere and the demands of his diners means re-inventing dishes he'd perfected in Ramsay's New York and London kitchens with local ingredients. It's the subject of his demonstrations at this weekend's Food Show in Auckland - how to rework that magic with produce available in this part of the world.
"That was the challenge in setting up Maze, tailoring what we have done internationally to local products." Because despite that Waikato breeding and Melbourne work experience, Emett is adamant he is no longer a local in the food sense.
"It was about taking dishes and ideas we used in New York and London - great dishes we've developed over years - and tailoring them to the Melbourne market. Not everything automatically works because the fish is different, the vegetables are different, the butter ... they're all different.
"You might find suddenly the flavours in a particular dish just don't gel. Some things just don't work."
But the upside for Emett is that the whole process is fun. "Yeah, I do enjoy that bit of it. Looking at a dish and saying: 'This doesn't work, let's try this. What about this?' And in the end some things work out much better."
Being back in Auckland more regularly to visit family and participate in events such as the Food Show means Emett can appreciate the changes in the dining scene here, too.
"Simon Wright [at the French Cafe] is doing some really interesting things. So is Michael Meredith. I had a great meal recently, too, at Clooney. Des [Harris, executive chef] - his flavours are very subtle."
Emett does have plans to join the fray by opening a restaurant.. So does his mate Gordon Ramsay.
"I would love to do something in New Zealand. I have been looking for a while now. It's a matter of waiting to find the right thing with the right people.
"It could be with Gordon. I'm not sure. He's definitely interested in doing something as well."
SHOW AND TELL
Lauraine Jacobs, Ruth Pretty, Kelly Young, Terry Lowe and Josh Emett are all hosting cooking demonstrations during the Food Show at Auckland Showgrounds, Greenlane, July 30 to August 1.
See foodshow.co.nz for a full list of demonstrations and show information. To keep you going until next weekend we have three Regal Salmon gift hampers to give away each containing fresh and smoked Regal Salmon products. To enter to win one of the hampers email your name and contact details to detours@heraldonsunday.co.nz by Thursday July 29 with Regal Salmon in the subject line. For more information on Regal producst visit regalsalmon.co.nz or visit the stand at The Food Show.