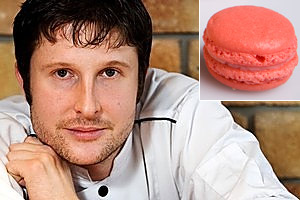 Last week, one of the ways Viva recommended celebrating Bastille Day was to eat macarons. And it seems you did! All over town, delis and cafes sold out of these dainty sweet treats. Tres bon.
Well the man, behind most of Auckland's macarons is the passionate Guillaume Nicoli - a French pastry chef who has worked for over 15 years crafting his talent. Nicoli's career has seen him work with top-ranking French maestro Thierry Mulhaupt in Strasbourg and at Fauchon in Paris. He has also worked in a number of Michelin star restaurants. No wonder his macarons are so good!
In 2005 he moved to New Zealand, started Ma Cherie (which means "My Darling") four years later, and began selling and supplying pastries - made with natural ingredients - all over town.
"My passion for food will never die, because I love cooking and I care about the quality: you can only make good with good," he enthuses in his rich French accent.
The key to a successful macaron, he says, "is creating a light crisp exterior with a gooey interior."
He also makes lemon tart, chocolate tart, hand-made marshmallow, eclairs, mille feuilles, croquembouche ... "All these pastries will give you a real taste of France," he laughs. "Un je ne sais quoi."
* This Saturday July 24, meet Nicoli and taste his pastries for free at Farro Fresh when he and a group of other French producers will be showing off their wares. Farro Fresh, 80 Lunn Ave, Mt Wellington. You can also buy his French delicacies at Pyrenees in Devonport, Mt Albert and Remuera; C'est Fromage in Newmarket, Remuera and St Heliers; Farro Fresh Food in Mt Wellington; Zarbo in Newmarket; La Cigale in Parnell; Dida's in Ponsonby, Takapuna and Victoria Park; and Waiheke Fruit and Vege.
For more info, see macherie.co.nz.
Ivy league
Fernando Peire, director of The Ivy - one of London's top restaurants - is coming to Auckland next month to host the New Zealand Restaurant Association Culinary Fare Telecom Master Classes. Vastly experienced in the world of hospitality, Peire has worked as a consultant for years and turned around the fortunes of establishments such as Soho's Quo Vadis, Holland Park's The Halcyon and Morton's Berkeley Square. This is a rare chance to hear and learn from a man with vast knowledge and experience about the restaurant world. The Culinary Fare is at the ASB Showgrounds, Auckland, and involves 60 competitions covering both the kitchen and restaurant sides of the hospitality industry. The Telecom MasterClasses will be held at Taste in Mt Eden (45 Normanby Rd) on August 22 and 23, and at the Paramount Picture Theatre in Wellington on August 24. These classes have limited tickets at $80 available to the public. You can also book tickets to the Feast Gala Dinner on the Sunday night, for $180. Ph (09) 638 8403 or email info@restaurantnz.co.nz.
A good roasting
Look out for the Auckland restaurants offering Sunday roasts, like Ella on Ponsonby Rd, which has a different one each week. A recent favrourite was the slow-roasted juicy pork shoulder, stuffed with fennel and apple, with mash, brussels sprouts (there are other vegetables as well for all you brussels sprout haters) and gravy, with tamarillo crumble and custard for pudding.
Sunday soiree
Looking for something a little different to do this Sunday afternoon? Well, head to the Bellini Bar at the Hilton Hotel on Princes Wharf for their special high tea - or a few cheeky cocktails if you dare - and be entertained by members of the Auckland Philharmonia Orchestra. It makes for a sophisticated outing, sitting in the elegant bar with the action on the Waitemata Harbour just out of the window. Ph (09) 978 2000.