Address: 32 Anzac Street
Phone: (09) 486 2249
Website: marvelgrill.co.nz
Cuisine: New Zealand contemporary
Rating: 8/10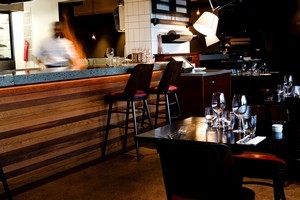 Anyone who knows me knows I love meat. I'm as far from a vegetarian as you can get. They also know I need a compelling reason to venture over the bridge to the North Shore. That reason now comes in the form of Alisdair Gribben of Vivace fame. Along with partner Wendy Sutherland, he has set up a new venture in Takapuna called Marvel Grill, specialising in grilled meats and good honest Kiwi cuisine.
There's even an in-house butcher who prepares all the meat cuts which are displayed in fridges for customers to choose from. I like the sound of this concept and convince two friends to battle the bridge traffic with me to test it out.
The menu at Marvel is extensive. There's a larder section that includes cold starters, a hot skillets section and a "from the grill" selection of meats and seafood. The grilled choices can all be ordered with a range of sauces, butters and side dishes.
We kicked off with the chicken liver pate. With a thick layer of fat to crack through to get at it, it was smooth and rich and had us in raptures.
Every time the wait staff, thinking we'd finished, attempted to remove it, my pate-loving friend would say "no, I'm still scraping more out". At one point I felt sure she was going to lick the dish. Luckily the hot skillets arrived to distract her.
Marvel's menu states that they intend to "celebrate the food heroes of New Zealand" with the products they use. Our grilled haloumi skillet was an example of this. Using organic cheese from the boutique cheese-making operation Zany Zeus it was intense, salty and squeaky. Served with a hot grilled lime and roasted field mushrooms this was a wonderful dish.
Next up was the duck breast with red wine emulsion and polenta toast. Tender and tasty. Last of the skillets were the prawns. Plump, drenched in garlic butter and cooked perfectly. Did we like them? We mopped up the pan juices and sucked the shells dry.
From the grill we ordered baby snapper stuffed with tarragon sourdough, a scotch steak with bone in with Armagnac green peppercorn sauce and a lamb rack with mustard herb sauce and a classic red wine reduction. My scotch steak was the only low-light. I'm not sure what possessed me but I ordered it medium rare, leaning towards medium. What I got was a well done steak that was a thinner cut than I'd imagined and this, along with my stupid cooking instructions, contributed to its dryness.
The side dishes at Marvel show off more of the flair and imagination of this team. The wasabi coleslaw was tangy and juicy and the brussels sprouts with pancetta were incredible, even for a brussels sprouts basher like me. But my favourite side dish was the macaroni cheese. It was bound by a three-cheese sauce that was creamy and sophisticated in flavour with a base of slow-cooked leeks and stock. Divine.
We felt compelled to give the puddings a go but were so full that we ordered one to share. When the chocolate liquid centre pudding arrived we were all perplexed. Stone cold and doughy it was seriously underwhelming. We ate half of it but when maitre d' Wendy appeared we politely inquired if it should have been served hot. She immediately apologised, assured us she'd remove it from our bill and offered us a replacement - hot this time! We declined as we we'd all overeaten.
Regardless, she appeared with another one that bore no resemblance to the first version - piping hot, its light and fluffy chocolate log-like casing gave way to a stream of hot liquid chocolate sauce. Oh, how we loved it. Chocolate puddings are a dime a dozen but this one which was sophisticated and had some real science behind it.
We waddled out of Marvel Grill like three overstuffed canapes but here's the thing; it was so tremendous that the next morning I wanted to eat it all again and I wasn't the only one. I received a text from my pate-eating pal that read "If Marvel was on this side of the bridge I'd be going back 2nite & again 2moro!" What I've decided is that I'm not going to let a mere bridge get in the way of such a marvellous dining experience.
From the menu: Hot skillets: haloumi and roasted field mushrooms, duck breast, prawns with garlic toast, chicken liver pate - all $9-$12 each; baby snapper $24, scotch steak (bone in) $24, lamb cutlet $22, sides of macaroni cheese, brussels sprouts with parmesan and pancetta, wasabi coleslaw, watercress and manchego shavings - all $5.50-$7; chocolate liquid centre pudding $9.50.
Drinks: Fully licensed.