Herald Rating: 4/5
Address: 132 Beaumont St, Westhaven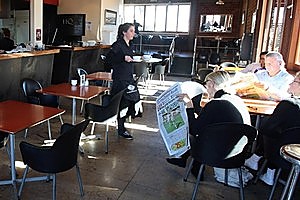 We came here because a friend works nearby and is always talking up the cafe's big breakfast (the "Cowboy") as being large enough to feed an entire table of people.
Parking was a breeze - there are some dedicated HQ parks on site and there's also plenty on the street.
We walked in and immediately thought this cafe attracts an eclectic crowd - there were a table of Westies to our left and some blokey boaties to our right. Apparently Paul Holmes has been spotted here a few times.
The most unusual thing on the menu was lamb's liver topped with mustard sauce and served with bacon, mushrooms and an HQ hash brown ($20).
We ordered the much-lauded Cowboy breakfast ($21.50) which comes with eggs any style, bacon, baked beans, tomato, sausage and a homemade hash brown, and an omelette ($20) with onion, mushroom, red peppers and herbs served with a hash brown and bacon. The hash browns were crunchy and delicious and the size of a saucer.
They are a meal in themselves. The giant omelette disappeared without a trace, but the Cowboy could not be conquered.
The service was brisk and efficient.
The coffee was creamy and hot.
We recommend if you come here you work up an appetite first, otherwise you'll never get through your meal.
Overall we thought it was a reliable brunch joint, with hearty servings of stock standard fodder. And yes, I reckon the Cowboy could feed an entire table.