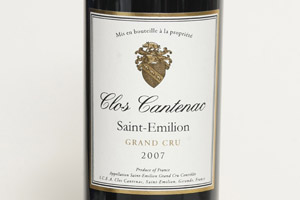 Despite the considerable sum of money being asked for the pleasure of a miniscule sip of various French wines, there was a waiting list of some length willing to part with their hard-earned money for the privilege. Just 36 of us were chosen.
But this was no ordinary tasting and what was on offer could hardly be described as "house wine". I had already been phoned twice in the previous few days by the organisers, the good folk at wine merchants Maison Vauron, to ensure I would be taking my place.
Emphatically "oui". I got the feeling those anxious to attend but without a ticket or reservation would pay World Cup Rugby final prices for an unoccupied seat.
As co-proprietor Jean-Christophe Poizat had already explained, "the French first growth and grand cru wines you will get to try, hardly anybody can afford anymore".
He's right. I know many wine obsessives who, like myself, gave up buying top-end French wines, especially Bordeaux, when prices skyrocketed in the late 90s.
All the wines to be tasted were from the 1999 vintage. Not a great year, but we were not deterred. Even an average Bordeaux vintage can, over time, offer up wines that surprise and surpass initial evaluations. For example, 1999 was a tad wet, with pockets of intense heat. In the words of internationally revered wine commentator Robert Parker, it was "an irregular year". Whatever, we've paid our money, we'll take our chances.
Of all the vineyards of the world, none share the reputation and reverence that is bestowed on those of Bordeaux.
In red Bordeaux, which is what we were to be tasting, there are usually six grape varieties used, primarily merlot, cabernet sauvignon and cabernet franc, with petit verdot, malbec and carmenere playing minor roles.
We tasted nine wines, varying in bottle price from $85 to $1200. All had their own particular charm but there were two stand-outs, naturally the most expensive. Firstly Chateau Cheval Blanc. This St Emilion grand cru is cabernet franc dominant, closely followed by merlot. If ever you get to try this wine, cherish the moment. The 1999 was still a bit young and it should be really good in another 10 years. The second wine was Chateau Margaux Premier Grand Cru - mainly cabernet sauvignon, with a dash of merlot. It had power, sensuality and elegance.
Bordeaux, even in an average year, brings a tear to the eye.
RECOMMENDED
2007 Chateau Capbern Gasqueton Saint-Estephe, $31
A fine example of an affordable Bordeaux. Cabernet sauvignon 60 per cent, merlot 30 per cent and cabernet franc 10 per cent, this is a lovely, balanced wine with a rich, long, gritty finish.

2007 Clos Cantenac Saint-Emilion Grand Cru, $79
Merlot-dominant with a splash of cabernet franc. From a tiny 3ha property part-owned by New Zealander Marcus Le Grice, this is delicate and flavoursome, smelling of berries, spicy fruit, cinnamon and vanilla.