Address: 262 Ponsonby Road
Phone: (09) 360 1113
Website: gpk.co.nz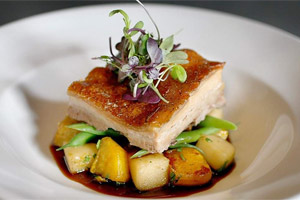 If truth be told, it was the spiced squid with a risotto cake that lured us to GPK on Ponsonby Rd one wet and stormy night. Said squid had been a highlight of GPK's lunch special (two courses and a glass of wine for $25), which I'd sampled a few weeks earlier. It had been served slightly singed, spicy rather than chilli-hot, and rolled into a fat, tender cigar. And there, in the middle, topped with salady stuff, was a crisp-fried risotto cake.
That risotto, with its tang of lemon rind and crispy edges, totally transformed my dislike of gluggy, gritty, every forkful-the-same-risotto of nightmare meals past, and had me desperate to get back to GPK. The memory had lingered.
This night, however, the spiced squid came as an entree - and, sadly, minus the risotto cake. Oh well. If that risotto cake had been a major lure for my return visit, the second sampling of the squid was almost as good as the lunch special, though I would have liked a little more browning on the outside.
Meanwhile, our men were tucking into their large muscovy pizza with such obvious rapture we had to try a slice. Despite the unlikely selection, the pizza was superb. This was GPK's thin-based pizza version, which meant it was crisp all the way to the centre and lavishly topped with a delicious concoction of tender, smoky wood-fired duck, sweetish red onion and kumara, set off by blue cheese. It sounds unlikely, but it worked.
By then we had our wine. I chose the Amor-Bendal Reserve Chardonnay which came recommended by our lovely Argentinian waitress, who had not yet suffered her team's thrashing by the Germans. She insisted it tasted of vanilla - and she was right. It was perfect for my peculiar tastebuds, and great to find a waitress who knows her wines, understands what you want, and puts the two together in seconds.
By now Brian was into his pork belly, which had arrived looking like a still life on his plate and turned out pretty damn good. Although he only mentioned it on probing (certainly not sharing), the crackling was not particularly crisp, but that didn't stop him from eating all but a tiny piece of fat before I caught him.
Suzanne's fish of the day was the ubiquitous snapper, served with chorizo and potato croquettes - an unusual complement to the fish. Eugene's chicken was perfectly wood-fired with a zingy, fresh corn tomato and tarragon salsa, while my white veal schnitzel was okay without being brilliant. It was served squashed in a stack (which I'd hoped was out of fashion if not banned altogether), robbing the schnitzel coating of its crispness.
The veal was tougher than you'd expect from milk-fed calves. On the other hand the mashed potato it was resting on was fabulous, as was the mini haystack of green beans perched on top of the edifice. And top marks for having veal on the menu in the first place.
On reflection the dinner at GPK was way better than most pizza franchises. Although I notice some complaints on the website, our service was first-class, demanding a tip for the first time this year. (And I have been to The Grove).
The surroundings were pleasant, although the space is too echoey and noisy for serious conversation. Parking is plentiful on week nights, the food is generous, expertly cooked and only a whisker off an "8" in quality.
Rating out of 10
Food: 7
Service: 8
Value: 8
Ambience: 7
Our meal: $323.70 for four entrees and main courses plus three desserts, six glasses of wine, two teas and a coffee.

Wine list: Long, well-priced with most choices by the glass and covers all the bases, including beer and cocktails.

Verdict: Takes pizza joint dining to new highs with real flashes of brilliance backed by charming, efficient service.