Herald on Sunday rating: 3 1/2 out of 5
Address: 5 Pt Chevalier Rd
Phone: (09) 815 9595
Open: Tues-Sat from 4pm; brunch weekends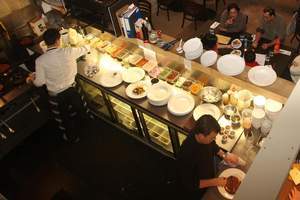 I bet the little brick plaza behind the Pt Chev library looked lovely in those architects' drawings in which elongated people are forever ambling in dappled shade, but in real life it always seems to me cold and windswept even when the day is warm and windless.
I should declare a personal interest: the Pt Chev shops are in my neighbourhood. I can't lay claim to being a card-carrying Chevalierite (Chevy? Pointy-head?), but we do have the same postcode and I am keen to see anything happen there that might liven up the place.
Ragu to the rescue. I was last here when Point Five Nine, a handsome but not fancy bistro where the food was both good and good value, had just morphed into Point and, in the process, taken a step backwards.
It offered (for the first time in my experience) "small plates", which it called "a concept from the United States ... similar to tapas".
Having made a fuss about the fact that almost nowhere in Auckland except Bellota serves tapas worth the name, I wasn't about to object at their avoiding the "t" word.
But the problem was that the food wasn't much good and some ill-advised decor, including irritating lights fixed in the middle of the tables, contributed to a forgettable experience.
Perhaps I was not the only one to be unimpressed. In any case the place had been closed for months before it relaunched a few weeks ago, the newest venture by some seasoned and proven talents associated with La Zeppa and Vivace, among others.
They've stripped out the banquettes (and, mercifully, those lights). Shelves on the bare brick walls are sparingly stacked with handsome bits of crockery and packets of nice stuff like Arborio rice.
The atmosphere is cheery and chatty and the service, if our waitress is any indication, is pitched just right: friendly and relaxed without being loose.
Perversely, given that Ragu is the Italian word for a meat-based pasta sauce, there's no ragu on the menu. It hardly matters, since the sound of the word is comfort food in itself. And there's plenty else for any appetite.
Those small plates are still there and there's a good selection of main dishes ranging from $21 to $29. We had one of the latter and four of the former (I asked the waitress to suggest one and sceptically took her advice to try the onion rings, which certainly banished some bad memories - they were delightfully crisp and the chilli-and-lime dipping sauce cut through the grease admirably - but they failed to change my view that onion should be cooked or raw, but not both).
The smoky baba ghanoush (it's a creamy eggplant puree that is a Mediterranean staple) certainly lived up to its billing; diners who are used to the dip made with baked, rather than flame-grilled, aubergine will find it a new experience. But it came with heaps of excellently chewy toasted ciabatta.
The fish-sauce-based dip for the "Vietnamese" meatballs worked well and the sticky lamb ribs were a fine, juicy variant on the rib theme, which often involves a lot of chewing (and very sticky fingers) for very little reward.
On the downside, a generous-size main of fish was a tad overcooked and the bread-and-butter pud wasn't a patch on the Professor's (she told me to say that). But here's a newcomer I'm happy to welcome to the hood.
Ambience: Cheerful
Vegetarians: Oodles of choice
Watch out for: The wine tastes: sample widely; stay sober
Bottom line: A welcome development
THE BILL
$94.50 for two
Small plates: $8 to $13
Mains: $21 to $29
Desserts: $12
Wine from: $3.50 (tastes)