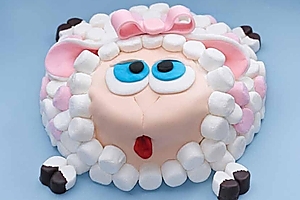 What's a birthday - or in fact any kind of party - without a themed cake? A new book by pastry chef Rob Burns, Kiwiana Party Cakes, gives party-throwers 33 new ideas for cool party cakes.
Burns, owner of Rob's Patisserie in Ponsonby, Auckland, has assembled the collection from just eight basic cake recipes that can be altered and combined to make classic Kiwiana works of edible art.
This cute kiwi is our favourite, but it's pretty closely followed by the marshmallowy sheep on the cover and the jandals inside.
With any decorative cake you will need a strong base to build on along with the iced topping.
* Recipes and image extracted from Kiwiana Party Cakes by Rob Burns (HarperCollins, $24.99). Photograph by Charlie Smith.