Address: 417 Manukau Rd, Epsom
Phone: (09) 631 5650
Cuisine: Modern French
Rating: 8/10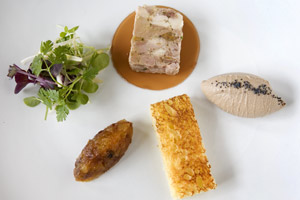 I am currently suffering from holiday envy thanks to daily texts from my sister as she travels through France, updating me on the glorious weather and the sensational food she's enjoying. In an attempt not to feel too left out, and with Bastille Day a good excuse to get all Francophile, a friend and I set out for what I've heard is a very civilised French restaurant in Epsom.
The graphic "S" on its exterior has stood for a few things over time, but since January it has stood for "Saison".
While waiting to be noticed by the maitre d' (the entrance way is obscured from the dining room, where he was in sole charge) we cast our eye over the dated interior. However, once seated, we realised the decor worked well, with a real sense of intimacy provided by the sectioned layout.
Je ne comprend pas what it is about the French accent but it gets me every time. The maitre d' could have said "I will get you cold chips and raw flour" and I would have nodded in swooning acquiescence.
Instead, he purred that the "line-caught fish of the day" was hapuku and when we inquired whether the cote de boeuf, advertised as a dish for two, was available as a single, his immediate response was "but of course, ladies, if you desire".
First, though, we kicked off with the proffered amuse-bouche of pumpkin and ginger potage. This dainty morsel gave us an early indication of chef Scott Denning's superb handling of seasonal ingredients. The ginger was a mere hint but enough to quell the full flavour of the pumpkin, giving it a much more delicate taste than this vegetable (at least when I cook it) usually achieves.
My dining friend loves goats' cheese, so she leapt on the beetroot and goats' cheese pillow for her starter. When the pillow arrived we both gasped - it was so pretty with a wreath of micro herbs around a tube of beetroot jelly filled with cheese. Tiny beets and turnips joined in the circle and all made for an exquisite dish that not only looked great but tasted delicious too.
I can never go past a terrine or pate, so when both appeared as one entree, I was in. The pork terrine paired with pear chutney was a match made in heaven and the duck liver parfait was smooth, buttery and light. Served with a thick slice of lightly toasted brioche I couldn't help wondering if the maitre d', who once owned his own authentic French bakery, had had a hand in creating it.
My hapuku main course hit all the right notes for me, with its traditional chablis emulsion and a more modern twist of cumin parsnip puree. My love of French sauces stems from chef training when I made my first beurre blanc. While whisking dry white wine and butter together over the stove to form the emulsion, I fell in love. First with the heady aroma it gave off and then with the wonderful flavours created with so few ingredients - butter and acid, emulsified and balanced with the sweetness of shallots. Saison's Denning adds his own touch, with warmed grapes for sweetness and sliced olives for a more astringent note.
There were no complaints from the happy diner opposite me as she tucked into the beef. The shallots were meltingly soft, the baby carrots sweet and tender. The square of thinly layered potatoes and the bordelaise sauce reminded us of the fine art of simple French fare cooked really well.
Our appetites could not extend to include dessert and what a shame as all of my favourites were there - brulee, tarte tatin and fondant. On the bright side, saving up for a return visit to Epsom is infinitely achievable compared with the airfare to France, so I think I'll be back at Saison soon.
From the menu: Goat's cheese and beetroot pillow $19, ham hock terrine and duck liver parfait $21, hapuku with chablis emulsion $37, cote de boeuf with pommes boulangere and baby carrots $39, lyonnaise potatoes sauteed in duck fat $8, steamed green beans $8.
Drinks: Fully licensed