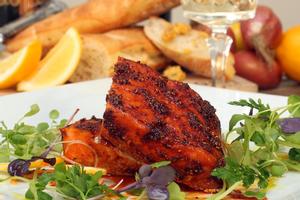 Because of its simplicity, this is more a serving suggestion for salmon than a recipe. The flavours are classic, making this a fantastic starter to any dinner party.
Serves 4
Prep time: 10 mins.
Cook time: 5 mins
4 x 120g portions Regal salmon
4 tsp Greg Malouf chermoula spice
1 shallot, peeled and sliced into rounds, as thinly as possible
4 tsp diced preserved lemon skin
3-4 tbsp olive oil
2 tsp lemon juice
2 cups young watercress
1 Salt & ground black pepper Rub salmon with a teaspoon of chermoula spice and leave to marinate for at least an hour. You can do this up to a day in advance for extra effect.
2 Place the shallots, preserved lemon skin and lemon juice in a bowl and dress generously with the olive oil. Season well and set aside to infuse (preferably somewhere warm) while you prepare the other ingredients.
3 Preheat a heavy-based frying pan. On medium-high heat, place the salmon flesh-side down in the pan for two minutes until the spices turn a deep brown colour. Turn the salmon and cook until the skin is crispy, but only long enough for it to be medium-rare.
4 To serve, place the salmon on a plate, spoon over some of the shallot and lemon mixture and scatter the watercress on top.