Herald on Sunday rating: 2/5
Address: 91 Charles Prevost Drive, Manurewa
Phone: (09) 267 6688
Open: Tuesday-Sunday from 6pm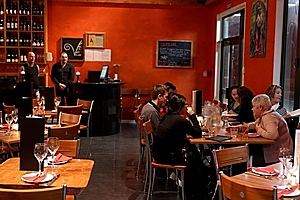 For what it's worth, I don't think Manukau mayor Len Brown's charging of an $810 dinner bill to his mayoral credit card was a big deal: his city is home to many cultures in which anything less than extravagant hospitality is seen as demeaning to both guest and host.
But I couldn't resist the opportunity of taking a look at the restaurant where Brown - as his mealy-mouthed detractors would have it - ran rampant with ratepayers' money.
It's in a part of Manukau whose name, The Gardens, was presumably dreamed up by a real-estate developer while the area was still bare clay. Certainly the prevailing idea of a garden is a concrete drive and a lawn trimmed within an inch of its life - but the Regional Botanical Gardens are nearby.
Volare itself presumably takes its name from the 50-year-old Italian song - famously covered in translation by Dean Martin - which is as much an accoutrement of Italian restaurants as gingham tablecloths and dripping candles in raffia-covered Chianti bottles. But Dino's not on the soundtrack at Volare, The Gardens; instead a DVD of the Three Tenors plays, perhaps on endless loop, on a screen sited at neck-craning height.
The volume is loud enough to be an irritation and not loud enough to be a pleasure.
There's no gingham or raffia either. The aluminium joinery is unsoftened by curtains and the echoing room's interior temperature could most charitably be described as bracing.
It's fair to say that I have come across Italian restaurants more devoid of atmosphere, but they were all in railway stations.
The two rules of Italian cookery - well, in all cookery really: use the best ingredients and shag around with them as little as possible. At Volare neither idea has really taken root. It was a chilly night so I cannot report on what the cold antipasti were like but if what we ate was representative I have to regard that as a lucky escape.
The Professor was attracted (and then disappointed) by the baked ricotta: an indifferent cheese to start with, it was garnished with very poor olives (although the caperberries were excellent).
I, meanwhile, was getting to grips with a spaghetti marinara, although it might more reasonably have been described as spaghetti bits: the strands had been cut into bite-sized lengths, the way I used to do it for my kids when they were little. Thus denied the fork-twirling pleasure of compiling a mouthful, I picked through the rather ordinary shellfish and bland sauce, and pinned my hopes on my impending main.
Italian restaurants run by non-Italians are common worldwide. I'm not saying there's anything wrong with that, or even that Volare is one such, though I did notice a "manzo of beef" on the menu ("manzo" is the Italian word for "beef" so it's a bit like saying "pork of pig"). But my correctly spelled "casseruola" of beef was dry and chewy (perversely, I suspect they should have used poorer-quality meat) and the ragu that dressed the Prof's penne was pretty unremarkable, as was the chocolate shortcake we shared for dessert.
There were only two red wines by the glass, and neither was Italian.
In short, Volare is an ordinary suburban joint whose complacency is probably attributable to the fact that there's nothing else for miles.
I reckon Len Brown would make a good mayor for the new Supercity - but I won't be taking any more restaurant recommendations from him.
Ambience: Very little
Vegetarians: Options
Watch out for: The roving, baseball-bat-sized pepper grinder
Bottom line: Earthbound
THE BILL
$132 for two
Baked ricotta: $14
Spaghetti: $19
Ragu: $18.50
Casseruola: $28.50
Dessert: $13
Wine (1 bottle): $39