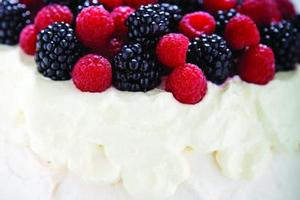 Makes 6-8 portions
4 egg whites
1/4 tsp salt
220g caster sugar
1/2 tsp vanilla
1 tsp vinegar
2 tsp cornflour
1 Preheat oven to 110C and line a baking tray with baking paper.
2 Whisk egg whites and salt to a soft foam.
3 Gradually whisk in sugar until the mixture forms stiff peaks. Whisk in the vanilla, vinegar and cornflour.
4 Turn on to the prepared tray, shaping into an 18-20cm circle, drawing the mixture up high and smoothing off the top.
5 Bake for 1 1/2 hours. Do not open the oven during cooking.
6 Turn off the oven, open the door slightly and allow the pavlova to cool in the oven.
7 When completely cold, decorate with whipped cream and fresh fruit or passionfruit pulp.