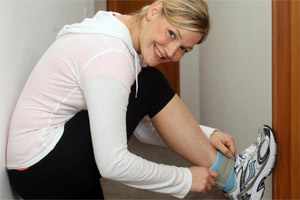 Till now, the fitness fanatics pounding the pavements with weights strapped to their legs have claimed a moral high ground of sorts.
But couch potatoes may have the last laugh: new research shows no guaranteed gain for the pain these runners inflict upon themselves.
Otago University lecturer in biomechanics and athletic injury, Dr Melanie Bussey, said walking or jogging with weights was a nightmare for the body.
The added weight makes people's limbs move faster, changing the way muscles work and putting extra tension on the joints.
"It's like swinging a rope with a ball at the end of it," she said.
"Then of course there's the impact. There's more resistance required to slow down your leg so you're putting more stress on your muscles, ligaments and tendons with the extra weight.
"You're more prone to muscle strains, ligament sprains and long-term injuries to tendons."
Massey University biomechanics specialist, Dr Philip Fink, said even hand-held weights increased pressure on the feet, ankles, knees and back. "Whatever weight you add to your body is going to turn up at your feet," he said.
Any weight in your hands was multiplied at your feet two or three times.
Personal trainer Kylie Hohaia agreed wearing weights was a bad idea.
"It's not recommended at all. Running has high impact on your joints as it is. Adding weight to a hard impact would do more damage to your joints."
Marriage a motivation
Lorna Wilkinson wears weights on her legs to tone up and look good when she gets married this month.
The 28-year-old dental assistant straps a 2.5kg weight to her ankles while at work most days, and says she is fitter and faster for it.
She got the idea after seeing a woman on TV running up SkyTower with weights on.
"I tend to wear them during the day," she said.
"If I go for a jog I take them off and it makes the run easier.
"If you take them off before the run your legs feel lighter."
Wilkinson estimates she runs about 1km an hour faster by wearing the weights.
She had tried running with ankle weights on a treadmill but stopped when she got blisters.
Wilkinson did not know that weights can cause injury. "I wasn't aware of that. If that's the case then I probably shouldn't do it because I have a history of back problems.
"I certainly didn't seek advice before I wore them."