Address: 2 Surrey Crescent
Phone: 09 376 0196
Cuisine: Mexican & Maya food
Rating: 6.5/10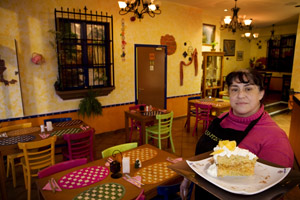 Recently I travelled to Mexico and now, back home, I have weekly, if not daily, cravings for the flavours and textures of the food I ate there.
Mexican Specialties in Ellerslie goes some way towards addressing my needs but they're not open often enough so when I hear there's a new restaurant opened up in Grey Lynn, that advertises itself as "Mexican fine dining", myself and four other Mexican food fans make a beeline for it.
Ahsi-Itzcalli is a family run restaurant and coming to live in New Zealand from Mexico has been a challenging and drawn-out affair for this family. It started when one son arrived in Auckland and, to support himself in his studies and be able to bring the rest of his family here, he set up a food stall at the Aotea markets selling authentic food from the south of Mexico.
Over the next five or so years, more of the family arrived to help out; they progressed to the Ponsonby food hall and have now made the move into their own stand-alone restaurant in Surrey Crescent.
The sons work the front of house while the parents work in the kitchen, all with the harmony of one big happy family.
Trawling through the menu we're excited. There's no sign of nachos, tacos or burritos. Instead what's on offer are sopes, tostados and mole - that famous savoury dish with its magical blend of spices that includes cacao to give the dish a hint of chocolate flavour - and more.
The menu at Ahsi-Itzcalli has most mains sitting at $25+ and we debate as to whether this makes them "expensive". The conclusion we draw is that, as far as restaurant eating goes it's not, but in NZ we've come to associate eating out Mexican style with a cheap eat. It's our problem, let's hope it doesn't become theirs.
Reading the menu challenges our grasp of the Spanish language but with entertaining English translations like "the rebellious nun mole" and "gossipy chilli buns" we manage to make ourselves understood by the cheerful waiter Eduardo, the son who started it all.
Our starters included a sensational house-made guacamole, some deliciously naughty los pambazos chismosos (potato, chilli and onion filled fried buns), a plate of freshly prepared salsas and chillies featuring my favourite way to enjoy some heat - smoky chipotles. The chicken fingers were a disappointment (dry and too few) though the chilli dip they came with was superb.
Our mains arrived, resplendent on their impressive platters. After much swapping of forkfuls and morsels we all managed to try most of the dishes and were happy with our choices.
Many of the ingredients used at Ahsi-Itzlcalli are imported direct from Mexico and this really makes the difference. The tortillas were soft and tasty having been made from masa flour, the salsas are zesty with genuine chipotle and tomatillo and the mole sauce, with its complex, slightly sweet, cinnamon flavour tasted like those I'd sampled in the markets of Oaxaca.
The steak wasn't so great and had the texture of pre-marinated sirloins from the supermarket that are scarily tender but was saved by the accompanying beans that were velvety and flavourful and the guacamole which was fresh and lively.
All our meals were only mildly spiced and prior to visiting Mexico I might have criticised this, but truth is, food in Mexico is not often served burn-your-mouth hot. Instead the custom is to add heat with extra chillies or salsas but many of the locals don't go that way anyway.
For dessert I recommend you order the pastel tres leches (three milk cake). Essentially it's a dense, moist, buttery pound cake dressed up like a young girl off to her La Quinceanera (the coming of age fifteenth birthday celebration), complete with frills of fake cream, colourful icing and silver balls. Spectacular.
The gripes we had are all easily fixed - tables too small to handle the large plates, pricing that's fussy ($9.99, $11.99, $25.99 - just round it up), the creme caramel flan was overcooked and curdled, a dining room that is on the cool side and bathrooms that are freezing - and I hope they get these sorted because this Mexican restaurant has all the makings of a good night out.
Ahsi-Itzcalli is not trying to be a cheap and cheerful cantina and, with this in mind, it's definitely worth a visit if you like Mexican food that is aiming to be a cut above the rest.
From the menu: Guacamole $9.99, chilli buns $12.99, chicken fingers $12.99, salsa and chillies with corn chips $5.99, Mexican slum platter $25.99, chicken mole $26.99, Tampico-style beef steak $32.99, fajitas $25.99, enchiladas tomatillo suizas $26.99, flan Acapulco $11.99, three milk cake $11.99, champagne jelly $11.99.
Drinks: Fully licensed.