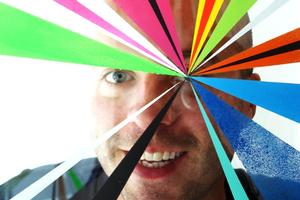 The iconic eyewear brand Ray-Ban continues its recent renaissance with the announcement of a collaboration with leading American graffiti artist and designer Matt Moore. The pairing up came after Ray-Ban invited illustrators, artists and designers to create unique screen-print posters inspired by the patterns on their Rare Prints Glasses collection.
Moore was chosen for his signature Vectorfunk style of digital illustrations which are inspired by abstract geometry and bright colour combinations.
Ray-Bans have been around since the 1930s and were worn by American airforce pilots in World War II before becoming fashion items. Audrey Hepburn donned a pair in the 1961 film Breakfast at Tiffany's and they became a symbol of the eighties, thanks to movies such as the Blues Brothers, Risky Business and Top Gun.
Matt Moore's glasses go on sale nationwide at the Sunglass Hut today.
Tell us about your background. How did you get started?
I've always enjoyed making art. When I was a kid it was my greatest escape, a way for me to create my own world in my head and then actualise it on paper to share with others. I've always known art and design were my path. After school I travelled for a few years, and then did a tour of east coast art colleges. On graduating from Maine College of Art with a Design and New Media degree I went to work at The VIA Group in Portland, Maine, and Burton Snowboards in Burlington, Vermont. Then two winters ago I launched my studio as a fulltime endeavour. It has all been a dream come true. Every day is an adventure.
Tell us about your work. What inspires you?
I do all sorts of different work, in different disciplines, with different end results. Much of my time and energy is devoted to computer-generated vector illustration in my signature Vectorfunk style, but I am also dedicated to creating traditional handmade artworks such as canvas paintings, ink illustrations, mega-murals, and installations. My inspiration comes from everywhere. That's the really exciting part for me - I never know what will touch me until it does. Studying the past, pondering the future, music, travel, nature, geometry, science, life, love, and fellow contemporary creatives are constantly inspiring me to try harder, go bigger, and shine brighter.
How would you describe your artistic style?
I hope viewers walk away thinking my work is powerful, saturated, fun, wild, futuristic, balanced, unique, and memorable.
What about Ray-Ban inspires you?
Ray-Ban is a true heritage brand. Versatile and original, and always open to pioneering a new aesthetic. I love it how you can Google "Any Influential Figure + Ray-Ban" and find photos of them proudly rocking the shades. JFK, Marilyn Monroe, Jay-Z, Beyonce, and the list goes on. That's love!
What is your favourite Ray-Ban look or style?
The Wayfarers are so classic! Timeless. Perfect. They make anyone look like a star.
What is your favourite Ray-Ban memory?
I'm lucky because the company I keep has a great sense of style, and I'm double lucky because some of them have a hard time remembering things like their keys, gloves, iPods and sunglasses. Lets just say I've happened upon some great Wayfarers in my house and car, thanks to the sun going down when I was driving with a car full of close friends. I always give them back, but only after a few beach days rocking them. I have a huge collection of shades. Every pair brings me back to exciting adventures with great friends.