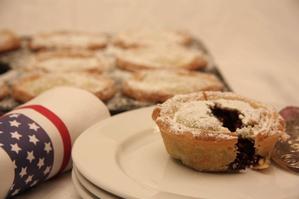 Makes 10
Filling
500g blueberries
400g solid-pack apples, diced
100g candied orange, diced
225g hazelnuts, roasted and skinned
Pastry
120g icing sugar
225g plain flour
185g butter, softened
1 The day before, combine the blueberries, apple, orange and hazelnuts in a mixing bowl. Cover and set aside.
2 To make the pie, grease and flour a Texas muffin tin with a disc of non-stick paper on the bottom.
3 In a mixing bowl, sift the icing sugar and flour together.
4 Rub the butter into the mixture to form a dough.
5 Roll the pastry out to 3mm and cut a disc to come up the sides and just above the tin.
6 Spoon the blueberry filling inside the pastry.
7 Wet the top of the pastry with water and connect a disc of pastry to make a lid.
8 Cut a hole in the centre with scissors and refrigerate for hour.
9 Pre-heat oven to 165C and bake the pie for 20 to 25 minutes.
10 Cool slightly and turn out.