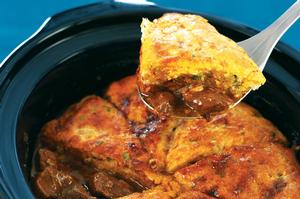 Serves 4-5
Preparation time: 35 minutes
Cooking time: 8-11 hours
Cooking temperature: low and high
Slow cooker size: standard
Peppered venison (Scone recipe below)
25g butter
1 tbsp olive oil
750g venison shoulder, diced
1 large red onion, sliced
125g mushrooms, sliced
2 garlic cloves, finely chopped (optional)
2 tbsp plain flour
200ml red wine
250ml lamb or chicken stock
2 tsp tomato puree
2 tsp redcurrant jelly
1 tsp peppercorns, roughly crushed
Salt and pepper
Green beans, to serve
1 Preheat the slow cooker if necessary - see manufacturer's instructions.
2 Heat the butter and oil in a large frying pan, add the diced venison, a few pieces at a time, until all the meat has been added, then fry until evenly browned. Transfer to a plate.
3 Add the onion and fry for five minutes. Stir in the mushrooms, garlic (if using) and flour, and cook for one minute. Stir in the wine, stock, tomato puree, redcurrant jelly, peppercorns and salt and bring to the boil.
4 Spoon the venison into the pot, add the hot wine mixture and press the venison below the surface. Cover and cook on low for eight to 10 hours.
Scones
250g self-raising flour
40g butter, diced
125g Gorgonzola cheese, rind removed and diced
3 tbsp chopped parsley or chives
1 egg, beaten
4-5 tbsp milk
1 Place the flour in a bowl, add the butter and rub in with the fingertips until the mixture resembles fine breadcrumbs. Stir in a little salt and pepper, the cheese and herbs. Reserve one tablespoon of egg for glazing and add the rest. Gradually mix in enough milk to make a soft dough.
2 Lightly knead, then pat the dough into a thick oval or round that is a little smaller than the top of your slow cooker. Cut it into eight wedges and arrange, spaced slightly apart, on top of the venison. Cover and cook on high for 45 minutes to one hour.
3 Brush the scones with the reserved egg and brown under the grill. Serve with green beans.
Reprinted from The Ultimate Slow Cooker (Hamlyn, $32.99).