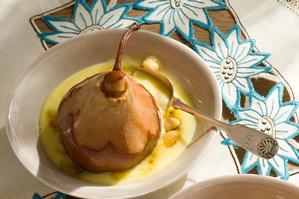 Baked fruit makes a simple, elegant dessert. Firm but juicy pears are best, but with slow cooking, pears that are a little less than ripe will become meltingly delicious too.
Serves 8
Preparation time: 15-20 minutes.
Cooking time: low 4-4 1/2 hours, high 2-2 1/2 hours
8 firm, ripe pears
Juice 1/2 lemon
70g packet Macadamia nuts, roasted and chopped
50g butter, softened
1/2 cup brown sugar
1 tsp vanilla essence
1/2 cup whisky or orange juice
1 Turn the slow cooker on to low to while gathering and preparing the ingredients. Core the pears and replace a small plug of the core in the base of each pear. Peel the pears if wished, or peel only halfway. Brush the cut surface of the pear with lemon juice to prevent discolouration.
2 Mix the macadamia nuts with the butter, brown sugar and vanilla essence. Use three-quarters of the mixture to fill the pear cavities. Place the pears in the pre-warmed slow cooker. Drop the remaining stuffing mix into the slow cooker.
3 Pour in the whisky or orange juice, sprinkle over the sugar and cover with the lid. Cook on low for 4-4 1/2 hours or on high for 2-2 1/2 hours. Cooking time will depend on the ripeness of the pears. Serve with your favourite custard or glace orange icecream, spooning any syrup that has formed in the base of the slow cooker on to each pear.
Reprinted with permission from Slow by Allyson Gofton. Published by Penguin Group (NZ). $49.99.