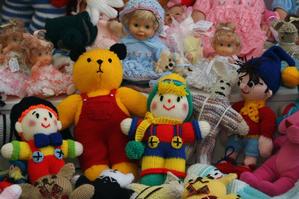 I could never claim that I love housework, but I admit that before children, its tedious, rhythmic nature allowed me moment of meditation in otherwise busy days.
Now, pride in a clean house is gone, to be replaced by an absolute loathing of housework. More so now the kids are older - 2 and 4 - and are clearing whole bookcases and up-ending entire toy boxes for useless bits of plastic and other junk on a regular basis.
I was startled to find myself agreeing with my husband in the weekend when he compared our bedroom, strewn with toys, clothes and bedding, to a certain Dunedin-based crime scene he'd covered as a young reporter. Minus the bodies, of course. Well, that's not quite true, as I was sprawled on the bed with my head in my hands, refusing to do my sixth load of washing for the day and cursing the kindly people who buy my children jigsaw puzzle books which scatter their contents from one end of the house to the other.
While we're on the subject: another toy which is bound to cause nothing but pain are those cheap torches with interchangeable "lenses" on the front.
Being clear plastic, they are fiendishly hard to see on the wooden floor. Right before you stand on one you have simply no idea that the tiny little menace, no bigger than a bottle top, will both propel you to the other side of the kitchen and create a crater-like hole in the sole of your foot.
But back to topic at hand - my house. I got up, full of resolve. Barking quick-fire orders at the kids, who paid no attention to me, I insisted they restock the book shelves and replenish the toy boxes.
I pulled out the big guns this time - no TV until everything was put away. The whined, they cried and moped around in annoyance, and occasionally threw a toy from one end of the room to the other - and then demanded to be praised for their efforts.
It was too much. I had to go and make a cup of coffee to calm down. Dear reader, karma was about to bite me on the butt. I walked into the kids' room, enraged as - predictably - nothing had been done, placed a foot unknowingly on a blue plastic toy fry pan, slid about a metre and slammed into the bookshelf, throwing the entire contents of my cup of coffee all over the wall.
It was difficult to know whether to laugh or cry at that point, but I did have quite a good - although unrepeatable - rejoinder to the next request from the 2- and 4-year-old, watching me with blank faces and wide eyes.
"Mummy, can we paint the walls that way too?"