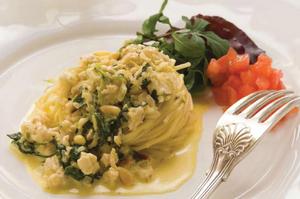 This is so scrumptious. If possible, make the sauce the day before to develop the flavours. You can serve this as a lunch, an entree or in larger helpings as a main meal. The quantities below are perfect as a starter for four.
1/4 cup pine nuts
Knob butter
1/4 shallots (or 1 red onion), very finely diced
1 clove garlic, crushed
200g chicken mince
Zest from 2 lemons, finely grated
Handful fresh lemon thyme leaves
Handful rocket leaves
1 spring onion, finely sliced
Small handful dried vermicelli pasta or thin spaghetti per person
1/2 cup sauvignon blanc
100ml cream
1 In a non-stick pan, dry-fry pine nuts until golden brown. Remove from pan and set aside. In same pan, heat butter and a dash of olive oil together, then add shallots and garlic. Cook over a gentle heat until transparent.
2 Turn up the heat a little, add chicken mince and brown well, breaking it up.
Add lemon zest, thyme, rocket and spring onion. Stir through well.
3 At this point, bring a saucepan of salted water to the boil and get your pasta under way. Add wine to chicken. It should hiss as it hits the surface. Stir through, then reduce heat and add cream. Simmer for 3-5 minutes, seasoning with salt and pepper to taste. Add pine nuts and stir through.
4 Drain cooked pasta and stir through most of the sauce, leaving a little to drizzle when you plate up.
5 Place a portion of pasta on each plate and garnish with a little extra sauce and some rocket, thyme leaves and lemon zest if wished.