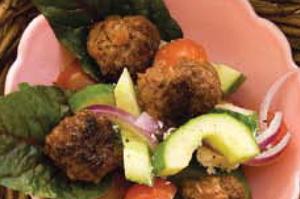 Delicious curry flavours. You can make these as hot or as mild as you wish simply by altering the amount of curry powder and chilli in the dish. The meatballs and the sauce are flavoured for an all-round taste sensation.
Serves 4
2 onions, finely chopped
2 cloves garlic, finely chopped or crushed
250g lamb mince
2 tbsp mild curry powder
1 tsp ground ginger
1 cup fresh breadcrumbs
1 tsp fresh ginger, finely chopped
1 tsp chilli powder (optional)
2 cups tomato puree
1/3 cup ground blanched almonds
200ml plain yoghurt
1 Preheat oven to 180C.
2 In a bowl, mix together half the onions and half the garlic with lamb mince, half the curry powder, ground ginger and breadcrumbs. Form meatballs from heaped teaspoonfuls of the mixture and repeat until finished.
3 Fry meatballs in a little vegetable oil, or bake in the oven for 30 minutes.
4 Once cooked, set aside in an ovenproof dish in a warm place while you make curry sauce.
5 In the same frying-pan, heat a tablespoon of vegetable oil or a knob of butter and cook remaining portion of onion and garlic over a gentle heat until transparent.
6 Add ginger, remaining curry powder and chilli powder (if using), stirring to release the fragrance. Reduce heat and add tomato puree and ground almonds. Stir well to combine. Let sauce simmer for 10-15 minutes. Add yoghurt and stir well. Taste and season with a little salt if required.
7 Spoon curry sauce over meatballs and heat in oven for 10-15 minutes.
Serve garnished with toasted almonds on a bed of white rice.
A side of diced cucumber mixed with plain yoghurt adds a refreshing flavour.