Herald on Sunday rating: 4 1/2 out of 5
Address: 55 Mulgrave St, Thorndon, Wellington
Phone: (04) 499 5590
Website: mariapias.com
Open: Lunch: Tuesday-Friday; dinner: Monday-Saturday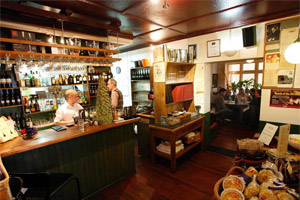 Among my few cookbooks is an English-language edition of the Italian cooking bible Il cucchiaio d'argento ("The silver spoon"), which contains an appendix of menus compiled by two dozen internationally respected Italian chefs. More than half are based in Italy, three in the US, two in Australia. And one is Maria Pia de Razza-Klein.
She's the woman who arrived in Wellington two decades ago by way of Puglia (where she grew up), Florence and Bologna to wow diners with her sensationally full-flavoured food, much of it based on slow-cooked sauces and stocks and made with passion and love.
On my first visit to Maria Pia's, the woman herself was wandering among the tables; a jolly, round figure (who would trust a sleek chef?) in a white cap.
Somehow we got talking about vitello tonnato, that food of the angels that smothers slices of boiled veal in a mayonnaise flavoured with capers and tuna and she, knowing a forkful paints a thousand words, quickly fetched a small side plate of her veal.
She tried some; I tried some. She animatedly invited me to conclude that it was the best I had ever tasted and I did because it was - although I may have said it was even if it were not, since she was holding a large knife.
Maria Pia is not at Maria Pia's any more. Her American-born husband Richard Klein, Italian by inclination and Kiwi by choice, remains as maitre d' and is calling the shots these days.
She is "focusing her abundant energies" on teaching and advancing the slow-food movement, whose local chapter she heads up. But her spirit still infuses the premises and the menu, which includes a three-meat bolognese sauce and the Lazio classic bucatini alla matriciana (pork cheek, tomato, mild chilli).
The Mulgrave St address is a handsome 1920s brick house opened out enough to accommodate a dozen tables without ever feeling crowded. A fire - with wood, not faux logs - burning in the grate adds to the homely atmosphere.
We felt under an unwelcome pressure to order - I was dining with a cousin I seldom see and we needed more gabbling time than our eager waiter seemed willing to give.
But once we were under way, he proved an admirable attendant, making intelligent and unusual wine suggestions - a rosé for the tortelloni of spinach and ricotta with sage butter was an inspired choice.
After sharing some excellent bruschette - goat cheese, chicken liver, and the garlic bread-equivalent nuda - I was keen to go for the full, belt-busting Italian experience.
My pasta starter was the shell-shaped conchiglie with a dreamy sauce of gorgonzola and cream and sprinkled with pine nuts, which I let my companions pick at too, so as to leave room for a gobsmackingly good osso buco. This rich dish of beef, stewed in wine on the marrow bone, and served with the obligatory saffron risotto milanese, was heart-warmingly wonderful and I heard a good account of the chicken saltimbocca (sage, white wine, lemon). Desserts of lemon tart and tiramisu were exemplary.
It would be a mistake to say I didn't miss Maria Pia, but in her absence they're doing a fine job. I will make my next visit a summer one to increase the chance that vitello tonnato will be on the menu. Maybe I'll call ahead just to ask whether they would do it. For old times' sake.
Ambience: Cosy
Vegetarians: Pasta choices
Watch out for: Good wine list
Bottom line: Mamma Maria!
THE BILL
$247.80 for three
Bruschetta (3): $20.50
Pasta/risotto: $18-$19 entree; $25-$27 main
Mains: $26-$34.50
Sides: $5
Desserts: $13-$15