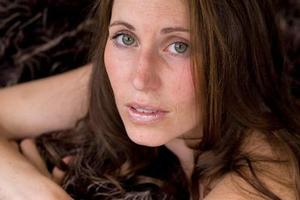 A former Kiwi farmgirl has bagged a millionaire boyfriend through a website matching money-hungry women with rich older men.
Caroline Sloan's beau is a businessman with a private game reserve in South Africa who counts Gordon Ramsay, Keanu Reeves and Orlando Bloom among his friends.
They met through niche dating site Sugardaddie.com after Sloan, 31, spent two years living on a farm in Puhoi, north of Auckland.
Sloan had grown disillusioned with New Zealand men who were "more interested in fishing". On returning to her native United Kingdom, she was horrified to find men in her hometown, Reading, were football-obsessed "lager louts".
Disheartened, she joined Sugardaddie and the offers started flowing in.
"I like European and American men who enjoy opera, theatre and museums and I found that most Kiwi guys were more interested in fishing," she said.
"The men I met in New Zealand seemed far more hunter-gatherer, with an attitude towards women resembling men of the 1950s.
"I know it sounds really shallow but I didn't look for anyone who had a net worth less than £1 million ($2.1 million)."
Her dates - including a company director from Cambridge, an aged rocker from London and a property developer from Birmingham, who made her "feel like an escort" - eventually led to her current beau.
The 41-year-old motorcycle company chief executive treats her to the finest champagne, dinners and a trip to his private game reserve in South Africa.
He is seen out and about with A-list pals, drives a Jaguar and is "thinking about" buying a private jet, Sloan said.
Because he is separated from his wife and has children, their relationship remains secret.
"I'm looking for a serious relationship. I don't know if I am a secret girlfriend, but there's every possibility that I could be," she said.
Similar sites cater to those looking for wealthy, older men to pay their way, or for beautiful younger women - known as a "sugar babies" - to dote on.
Some seek long-term relationships, while others are looking for escorts or openly admit they are "gold diggers".
Denise Corlett, who runs the Dating Advice website from Auckland, said the popularity of such sites doesn't surprise her.
She has no problems with the websites but warns age and wealth differences can create rifts.
Wellington-based sexologist Michelle Mars agrees the sites can be an honest way to meet like-minded people. "I guess you could call it a negotiated form of prostitution ... on the other [hand] it's just a niche matchmaking service."
Lust and love online
The Herald on Sunday decided to find out how much interest there is in Sugardaddie.com and similar sites.
We browsed a few and quickly found more than 400 Kiwi men and women looking for matches.
To find out how keen male users were we set up a series of fake profiles, entering details of height and weight, likes and dislikes for a fictional woman living in Auckland.
It didn't take long to get a response.
Only hours after visiting one site, two Kiwi men, each claiming a net worth of more than $1 million, sent messages of interest.
One, a 47-year-old businessman from Wellington, said he was "seeking a girl on the side" to be his mistress.
The other, a 49-year-old from Kerikeri, said he was accustomed to younger lovers and enjoyed the finer things in life, such as painting, ballet and flowers.