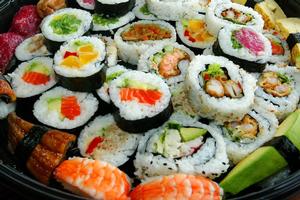 When it comes to eating out, it appears Kiwis just can't get enough of Japanese.
Riding high on the worldwide sushi boom, the Asian cuisine is the most popular across the country, according to restaurant search guide menumania.co.nz.
Gastronomic delights from the region dominate our eating habits.
Indian, Thai and Chinese also among the top five most searched for restaurants. Italian is the sole European entry at No 5.
Tastes vary across New Zealand. Japanese cuisine reigns supreme in Auckland, which has more than 300 restaurants, sushi bars and takeaway outlets, but cafe food is favourite in Wellington, and Thai is tops in Christchurch.
The figures were based on internet searches for places to eat out.
Menumania founder Christian Rosescu was unsure why eating habits differed between centres. "It could be a personal preference of the locals, who after visiting those countries have developed an appetite for the cuisine," he said.
"It could also be that, for example, the Japanese restaurants in Auckland are just great eating places which offer consistently good food and service."
Sushi, sashimi and teriyaki-flavoured rice dishes were the most popular dishes, according to a dozen Japanese restaurants around Auckland.
Aucklander Dana Marsich, 38, eats salmon teriyaki at Tanuki restaurant in Queen St twice a week. "The price is excellent, I get an amazing meal for $10. There are the health benefits of salmon, and it's fresh and delicious," she said.
Her friend, Yuka Kubota, a Japanese woman who has lived in Auckland for four years, said Kiwi standards were improving.
She said: "The size of the meals, customer service and flavours are very good."
MasterChef judge Simon Gault said Japanese food was having a resurgence that was influencing other styles of cooking. "You can buy sushi on every corner and if you are serving sushi these days it has to be really top quality."
Rick Littlewood, who owns several Japanese restaurants in Auckland, said Kiwi sushi was fast becoming the national food of New Zealand.
"Fifteen years ago, you only had four or five restaurants in Auckland, now there would be 300-400, including takeaway places.
"When you get 2-year-olds who demand sushi, you have got a captive market."
Hirae Toru, owner of Soi in Remuera, said chicken teriyaki was easily the top seller in his restaurant. "Europeans seem to love the sweeter flavours," he said. "They will often enjoy it with hot sake."
But Kiwi restaurants had "a long way to go" to match their Tokyo counterparts, according to Japan/New Zealand Business Council chairman Brian Martin.
"If Kiwi restaurants have Japanese chefs, they are reasonably good. But the menus are still limited, there is too much reliance on sushi and teriyaki.
"Maybe the restaurants need to do some more research in Japan and have a look at what's becoming popular in Tokyo."
In the latest edition of the Japanese Michelin guide, the international food lover's bible, Tokyo received 261 stars, the highest of any city in the world.
The judges singled out kushiage (deep-fried skewers) and yakitori (grilled chicken skewer) for special mention as the trendsetters in Japanese cuisine. The guide also said izakayas (Japanese-style pubs) were an increasingly popular place to eat out.
Other internet search engines showed variations in restaurant popularity.
Menus.co.nz reported slightly more searches for Indian restaurants than Japanese.
Chris Dempsey, from dineout.co.nz, said he had seen an bigger increase in searches for Thai restaurants than any other style of food.
"The Japanese increase may well be more along the lines of lunch bars, sushi trains and the like," he said.